This is an explanation about the face editor screen.

Design
You can adjust the shape of face parts such as eyes and eyebrows by selecting the corresponding body part on the tools panel and moving the sliders in the properties panel.

Expression
Changes made to the eyes, mouths, etc of each facial expression, like 「NEUTRAL」,「FUN」, and 「JOY」, can now be defined as a set.(VRMBlendShapeProxy)

When you use the Expression Editor feature, you can adjust the facial expression parameters. Just like in the example below, you can change the model's expression to whatever you like.
You can select the components you would like to edit in the left-hand tool panel for expressions like 「NEUTRAL」and「FUN」 and then move the sliders in the right-hand property panel to adjust things as you'd like.

Joy without the Expression Editor: 100

Joy with the Expression Editor: 100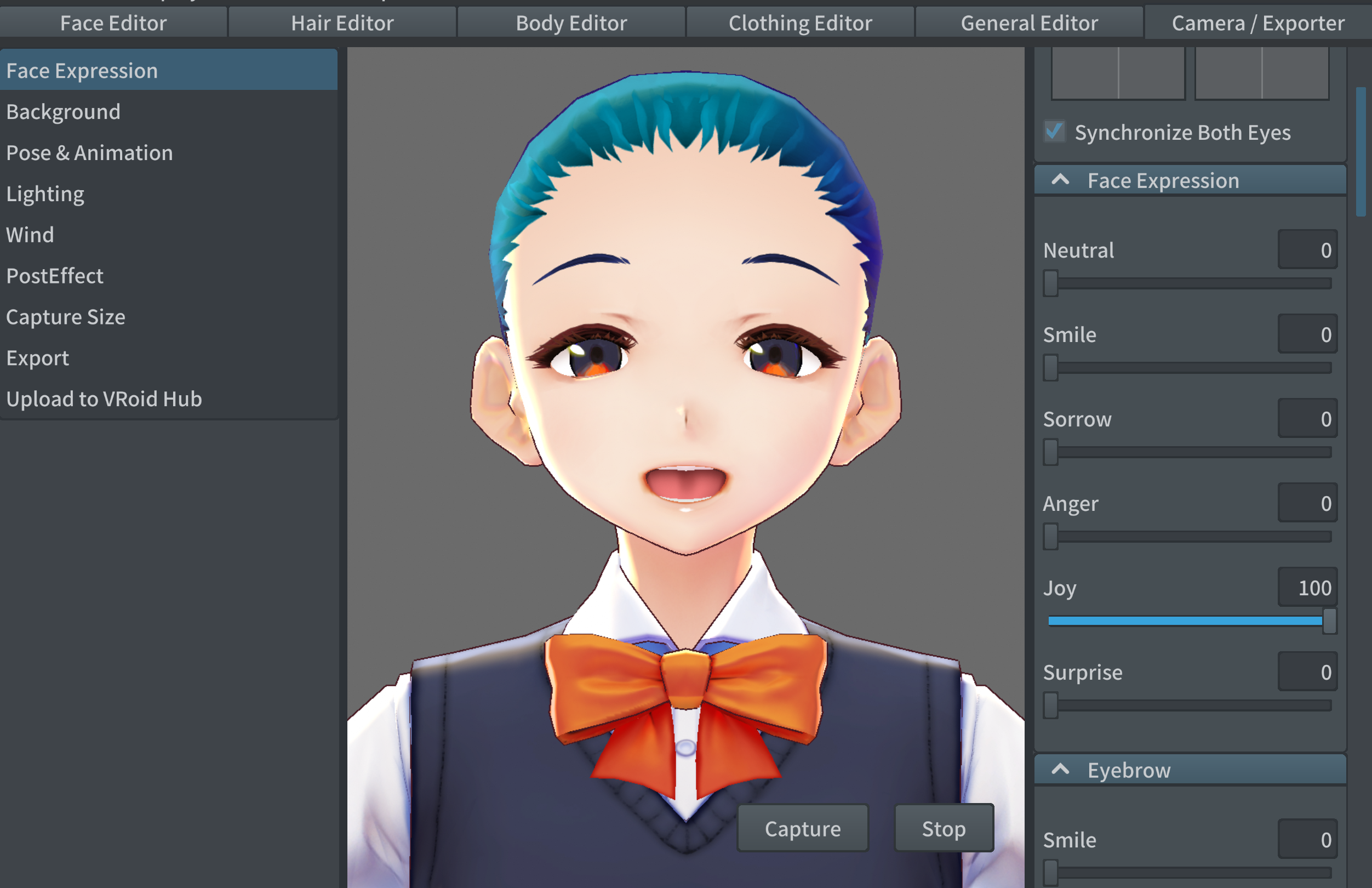 Texture
Select the desired body part (irises, skin, etc.) on the tools panel and use brushes to make the selected section into your preferred shape and color. You can do so by selecting the brush tool and painting directly on the central part of the screen, the camera panel. You can paint both on the model on the left directly, or on the development diagram on the right.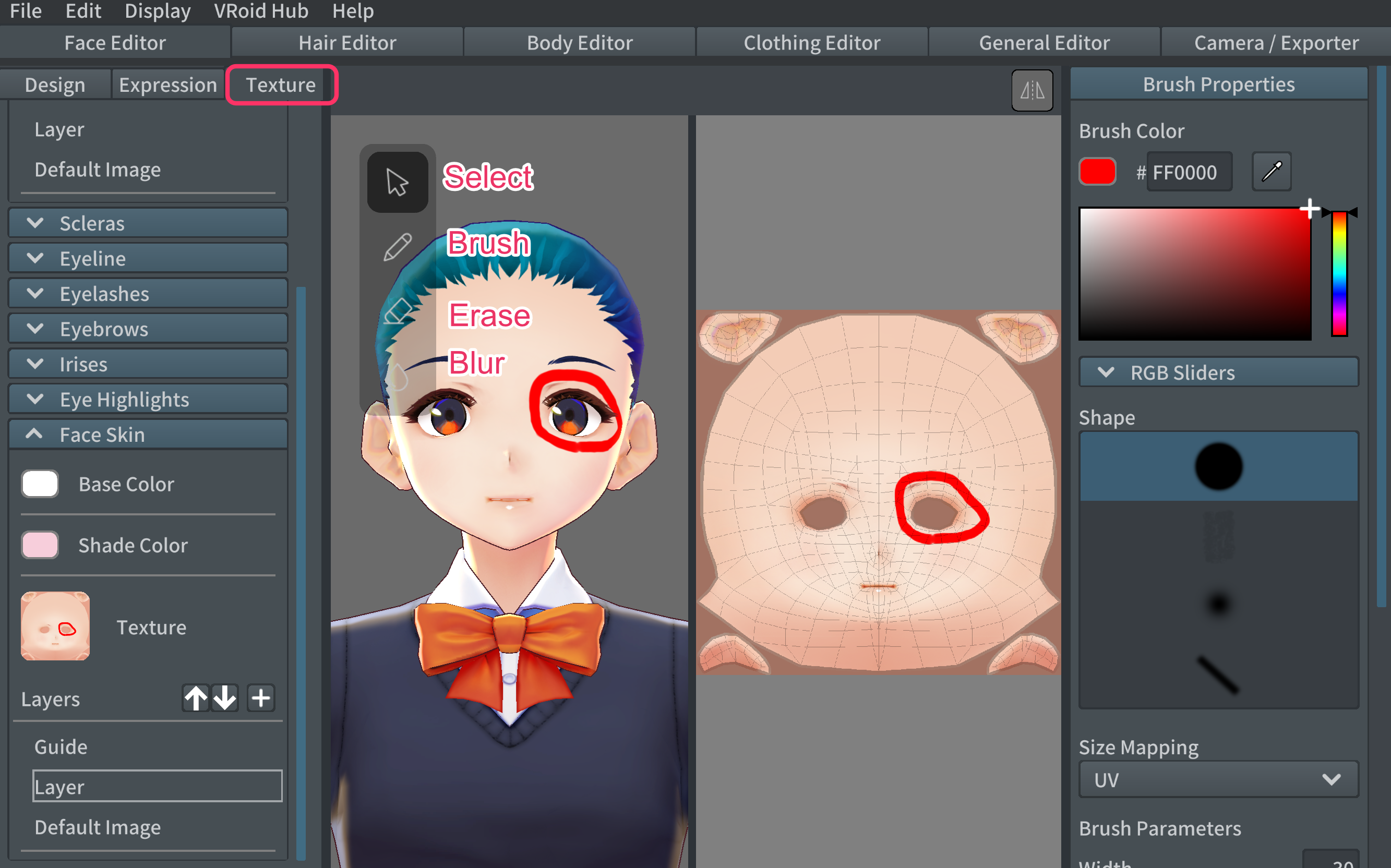 Layers
You can use the buttons on the top of the layers panel to respectively shift the selected layer up and down (↑↓) or to add a new layer.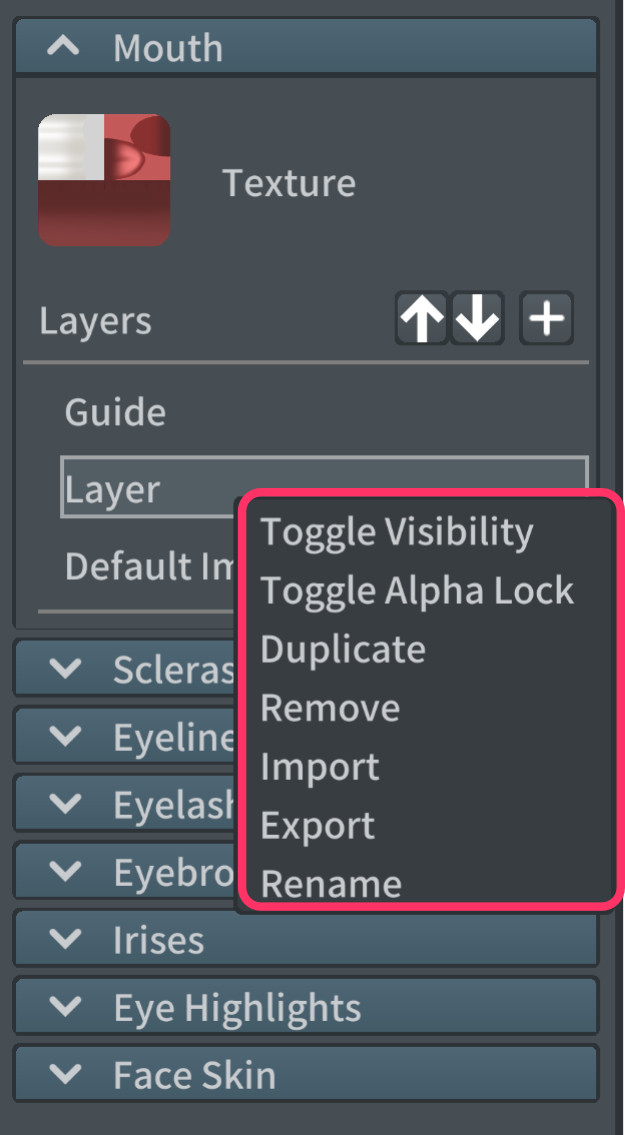 By right-clicking on Layer, the following options will appear.
| | |
| --- | --- |
| Toggle Visibility | Allows you to show or hide a layer. |
| Toggle Alpha Lock | Locks the transparency of a layer. |
| Duplicate | Duplicates the current layer. |
| Remove | Deletes the current layer. |
| Import | Allows you to import a *.png image file. |
| Export | Allows you to save the layer as a *.png file. |
| Rename | Allows you to change the layer name. |
Tune/Original
This function is currently being developed.