What are Custom Items?
A custom item can be an outfit, a facial feature, hairstyle, or accessory for which you have edited the parameters or texture and somehow changed from its initial form. On this stable version, each of these items can be saved in the Custom tab, and shared through models.
In the beta version, to use an outfit or some facial parts you edited on a model, you had to export its data/texture and go through a long and unpleasant process.
Custom items were developed in order to reduce the hassle in that process.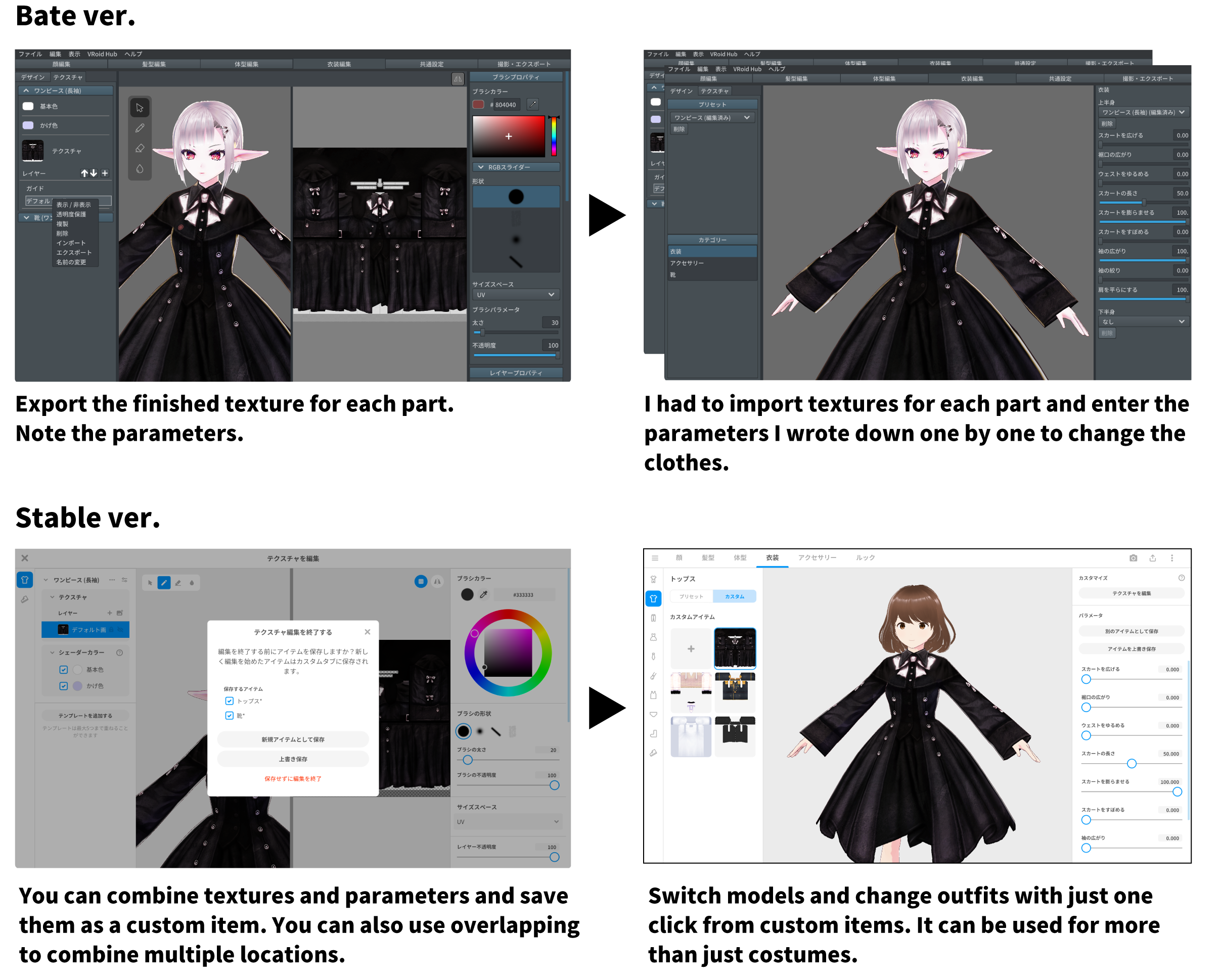 Creating Custom Items
There are two ways to create a custom item:
Editing a preset item

Creating a new item from scratch
Editing a preset item
Preset items are all those items available for you right after you have downloaded VRoid Studio. There are different items in each category.
All of these items can be customized in shape, texture, etc. Try selecting an item you think needs some improvement and customizing it through the parameters or the texture editor.
With the item selected, play with some of the sliders
on the right to see how it changes.
You can also edit the texture by clicking on "Edit Texture" on the panel on the right hand of the screen.

When you're done editing, click on the x button on the top left corner and select the items you wish to save.
The items you edited should be marked with an *, so make sure to check all the boxes for the items you need to save. You can save them as a new item or overwrite them. Both will end up saving this edited item in the Custom tab.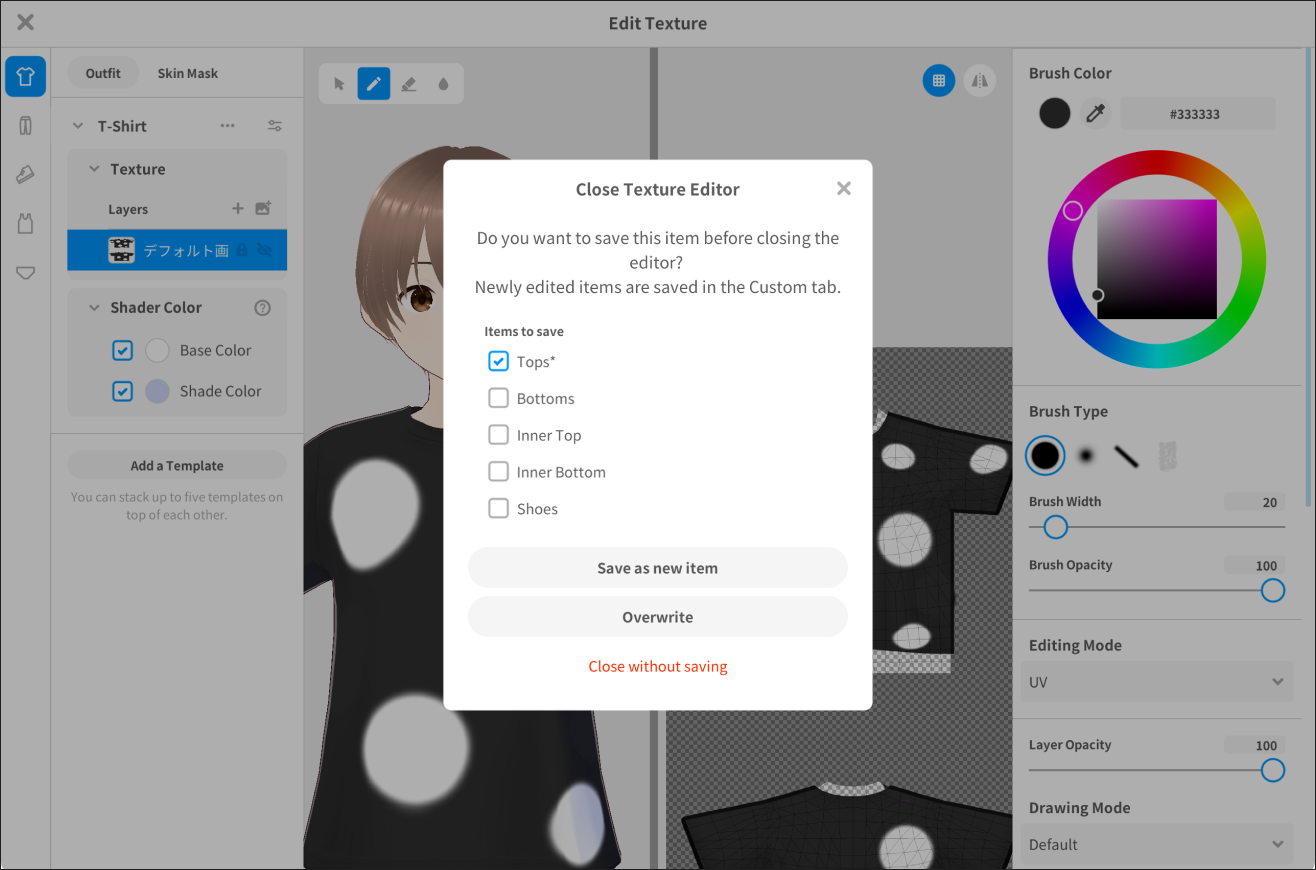 If you're editing an item you just created, even by clicking "Save and overwrite", it will be saved as a new custom item.
Items saved through this process will display in the Custom tab; click on any of them to have your model wear them.
Right-click on the thumbnail (or click pressing cmd) to open up the menu that lets you duplicate, rename, or delete the item.
Furthermore, if you make any edits to an item from the parameters on the right-hand panel, don't forget to save it, either as a new item or overwriting the item you edited.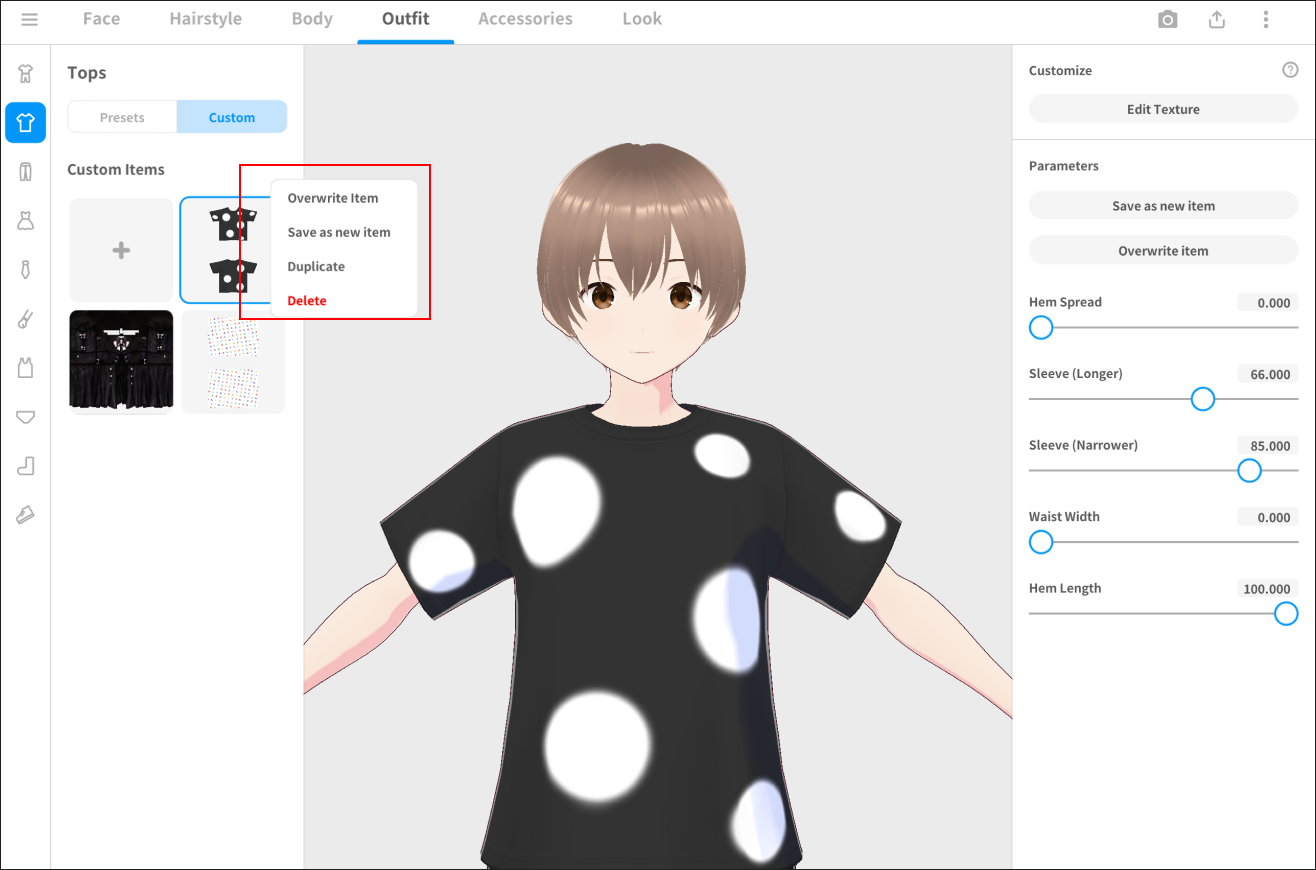 About Unsaved/Temporary Items
If you close the editor without properly saving the item you were editing, that item will temporarily be displayed as an "unsaved item".
You can have up to 1 unsaved item per category, meaning that if you start editing a new one on the same category, the first one will be deleted.
It might happen that you forget to check one or two boxes when closing an editor. In such cases, don't forget to save that temporary item as soon as possible, or you might lose your data.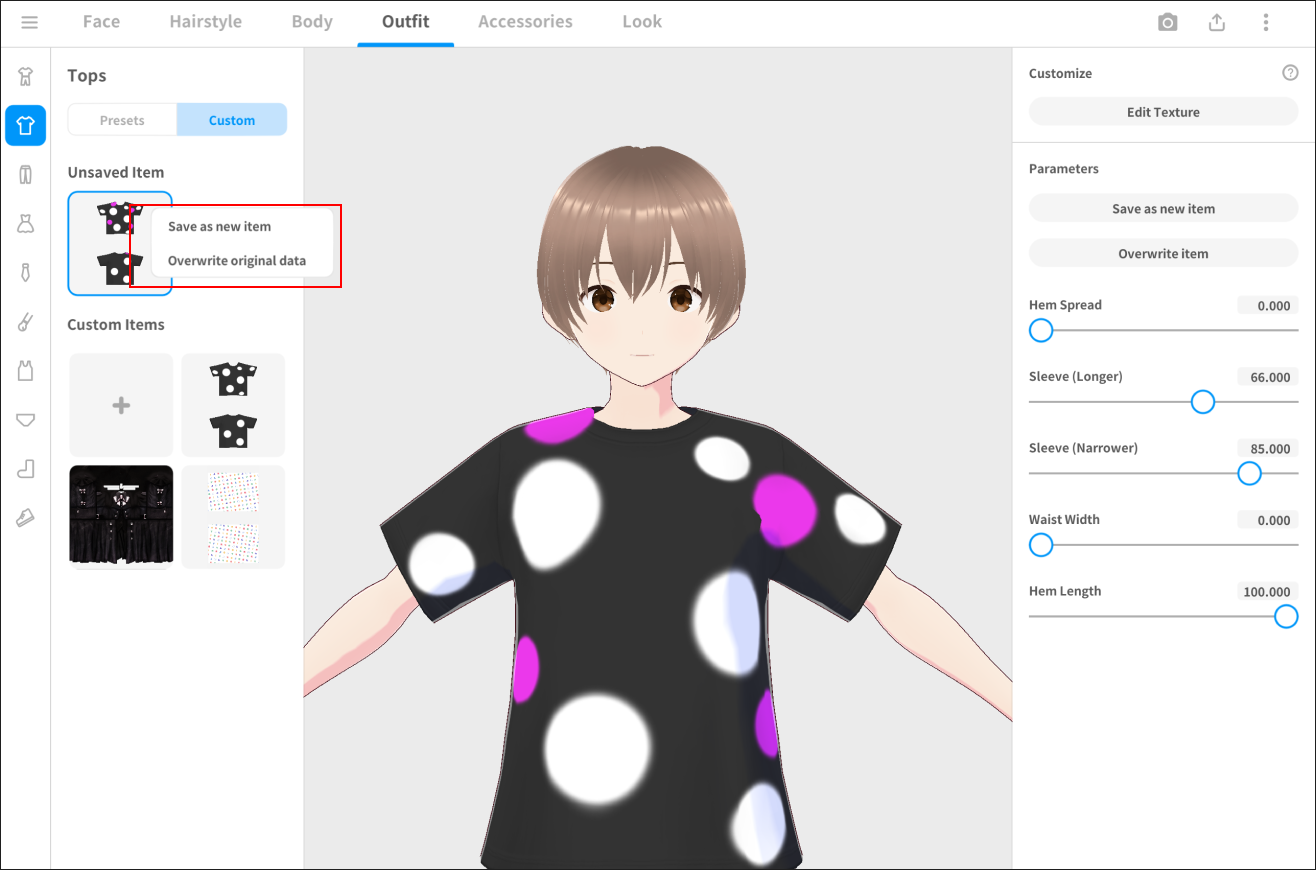 You can save an unsaved item by clicking on "Save as a Custom Item" on the right-hand panel, or by right-clicking (or clicking while pressing cmd) on the thumbnail and then selecting "Save as New Item" from the menu.
Creating a new item from scratch
You can create custom items from scratch too, without starting from a preset item.
Go to the category you wish to create an item for, click on "Custom" on the left to open the custom tab, and click on the + button.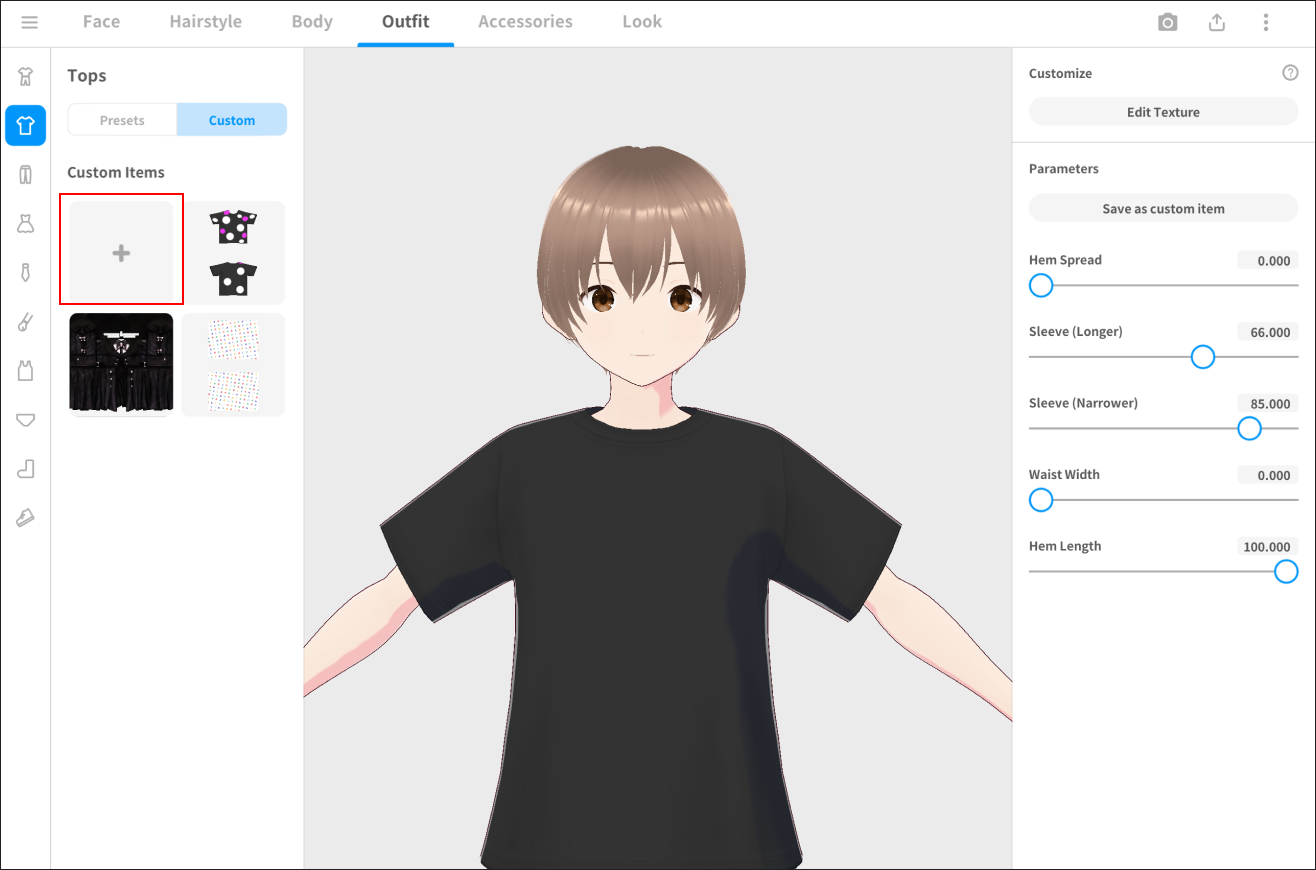 A list of templates will display. This list differs for each category.
Here, we're displaying the list of outfits as an example. With facial parts, hairstyles, and accessories, the custom item will be automatically generated as they all start from the same base.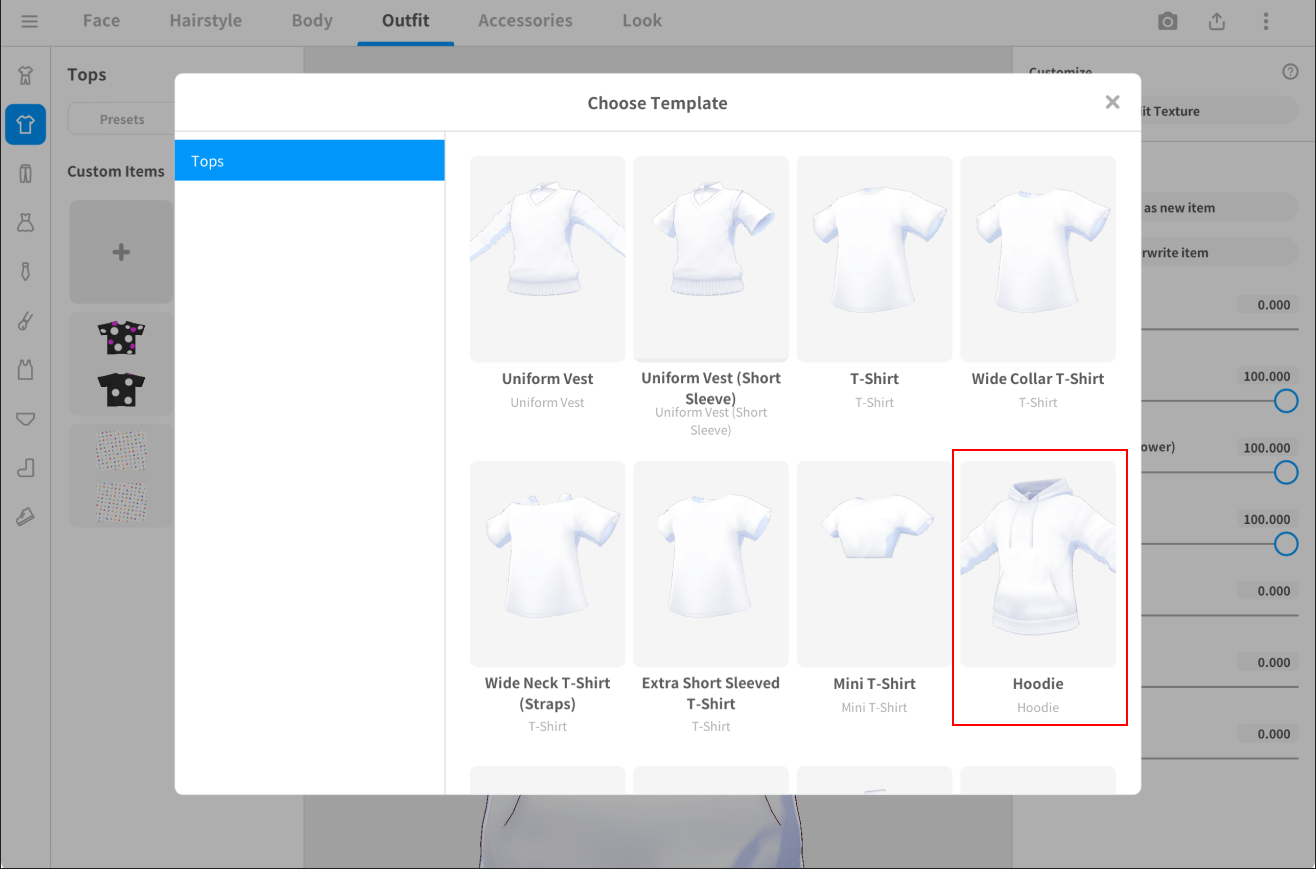 Pick a template to see your model wear it.
From here on, the process is the same as it is with editing a preset item. Try creating some items from scratch too, and have fun with changing parameters and designing your own texture.