The Import/Export Custom Items feature allows you to interact with custom items created in VRoid Studio outside the software. This article explains how to import and export custom items.
Refer to the help page below to learn more about custom items.
I want to learn more about custom items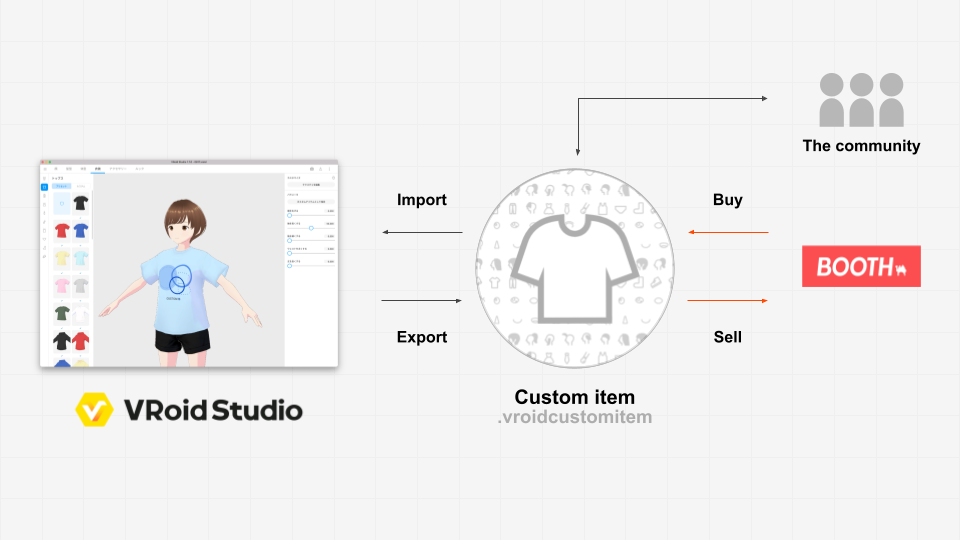 Thanks to the Import/Export Custom Items feature, you can easily incorporate or share your custom items.
For example, you can import an outfit purchased on BOOTH and make your model wear it, or you can export an outfit you created to sell it on BOOTH or share it with others.
Importing custom items
To import custom items, click "Import Custom Items" in the upper left menu or "Import" in the Custom Items tab of each item category.
Either method will take you to the corresponding item category tab, depending on the custom item you are importing.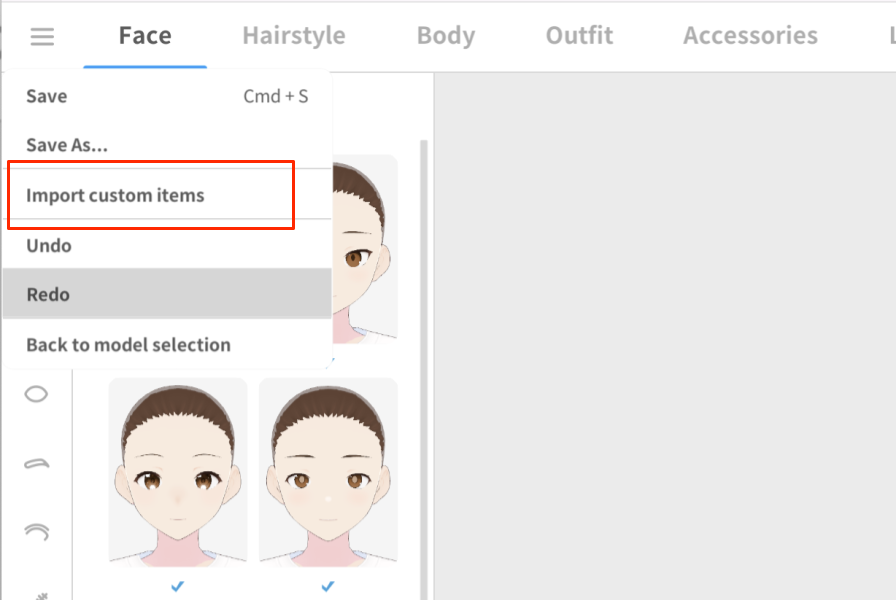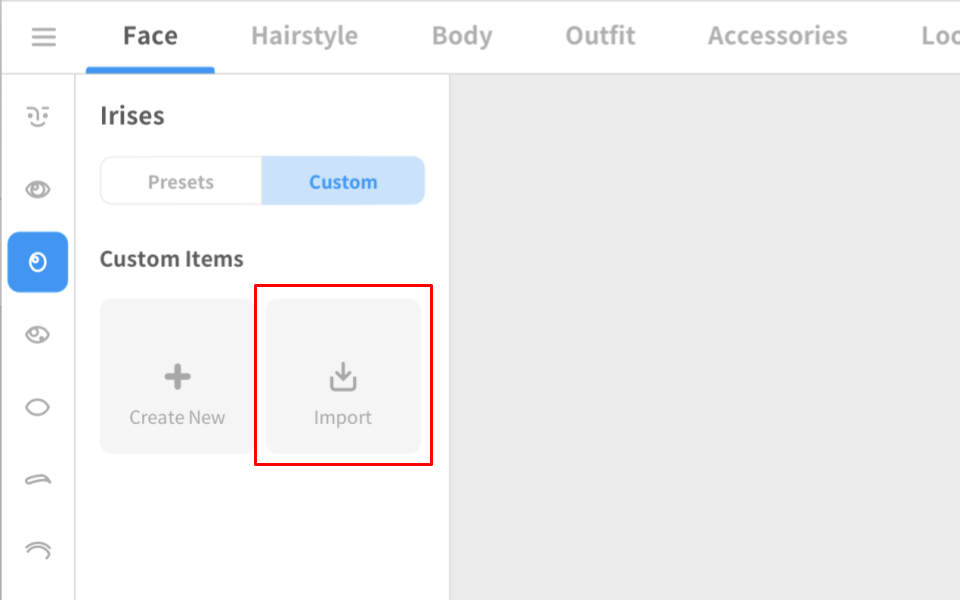 Select and open the custom item file (*.vroidcustomitem) you wish to import from your computer.
When you successfully import an item, a popup window will appear.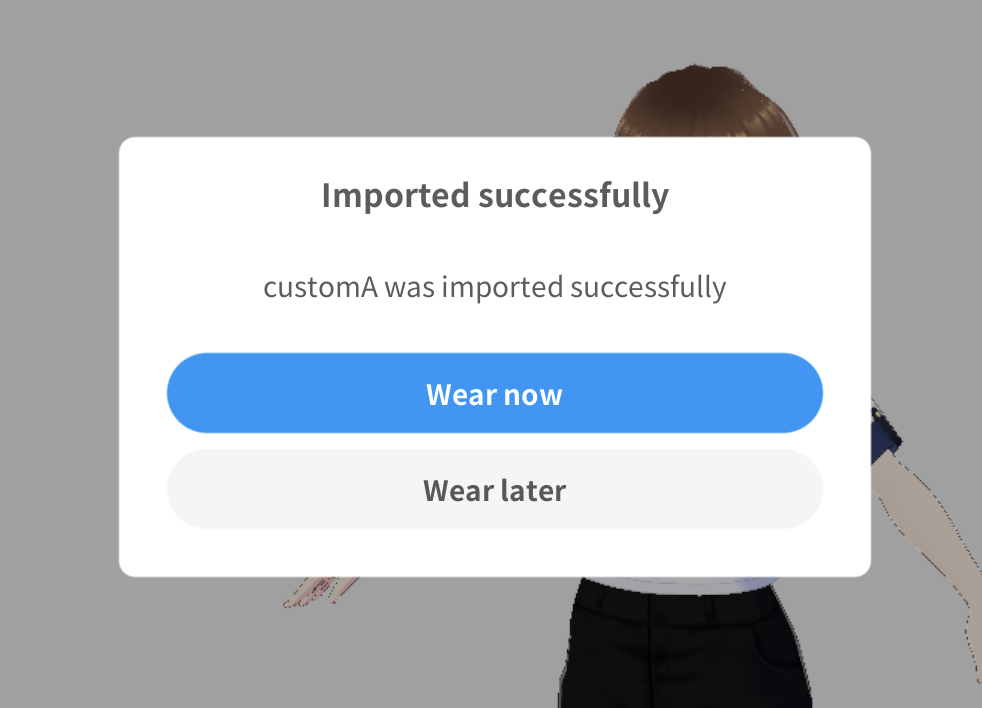 Select "Wear now" if you want your model to immediately put on the imported item, otherwise select "Wear later".
The item you imported will be saved as a custom item and from now on you'll be able to select it from the Custom Items tab to use on other models.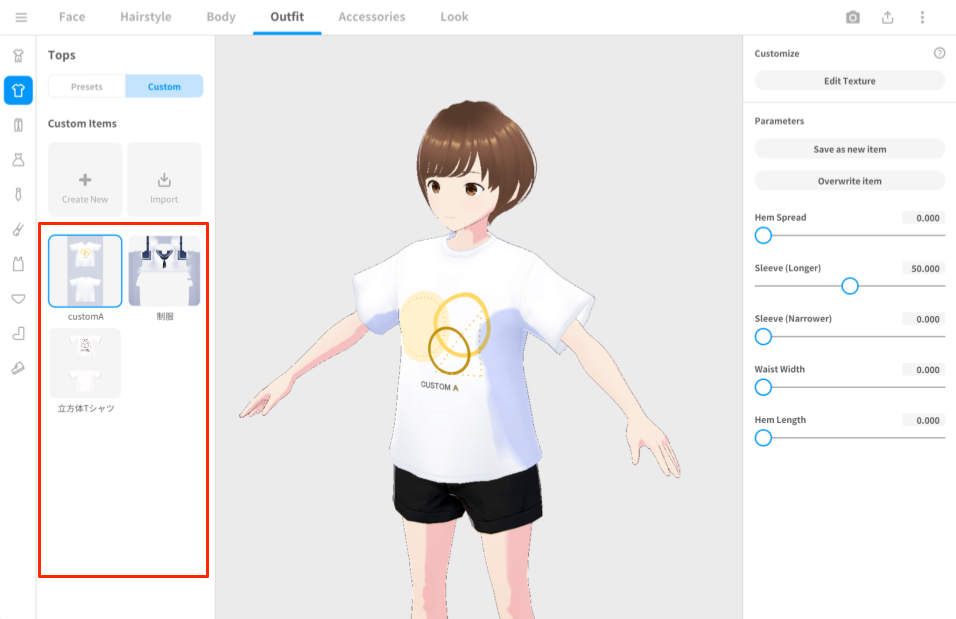 You can freely edit custom items you imported, as you would regular items.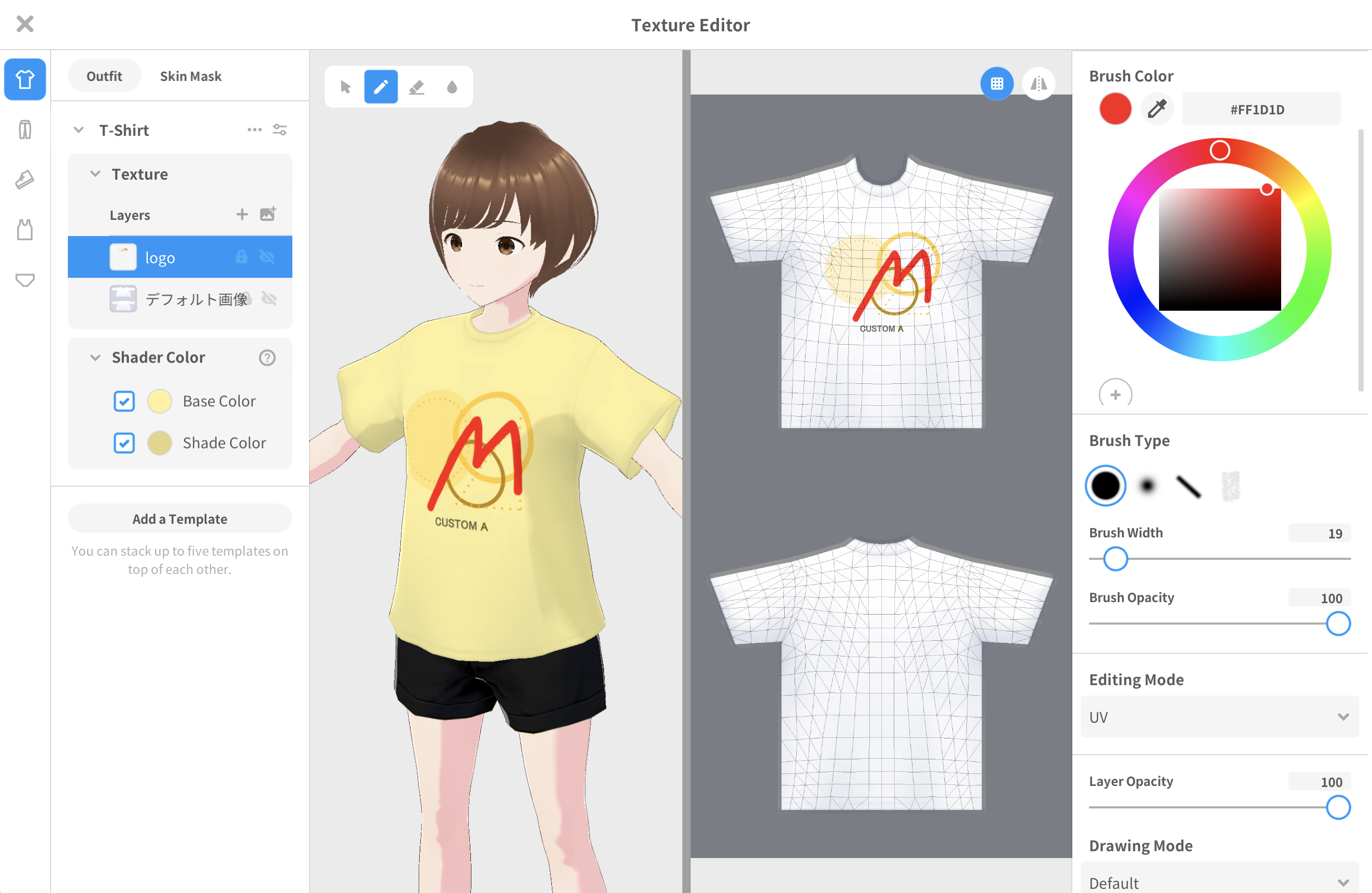 Refer to the help page below to learn about editing custom items.
I want to learn more about custom items
Exporting custom items
To export a custom item, first select the item you wish to export. Then right-click on the selected item to open a menu.
You cannot rename or export an item unless you select it first.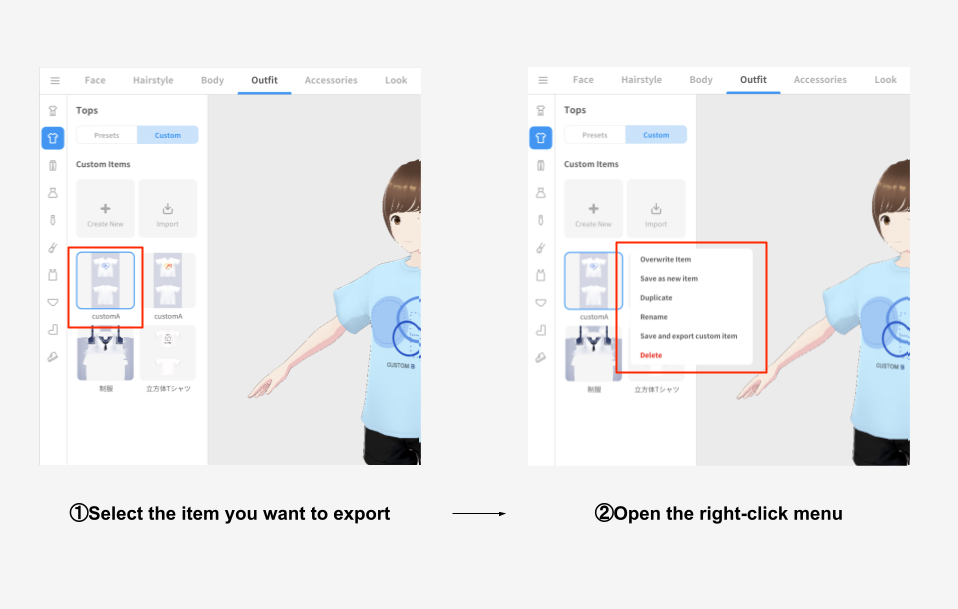 You can change the displayed name by clicking "Rename" from the right-click menu. This will be the name that will be shown when someone imports the item.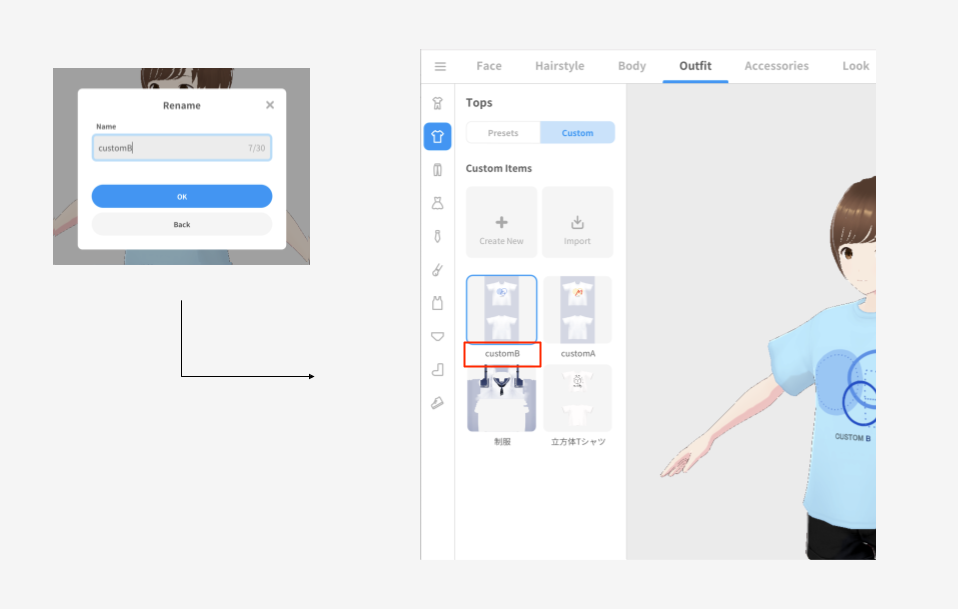 Click "Save and Export Custom Item" from the right-click menu to export the item after setting a file name and location.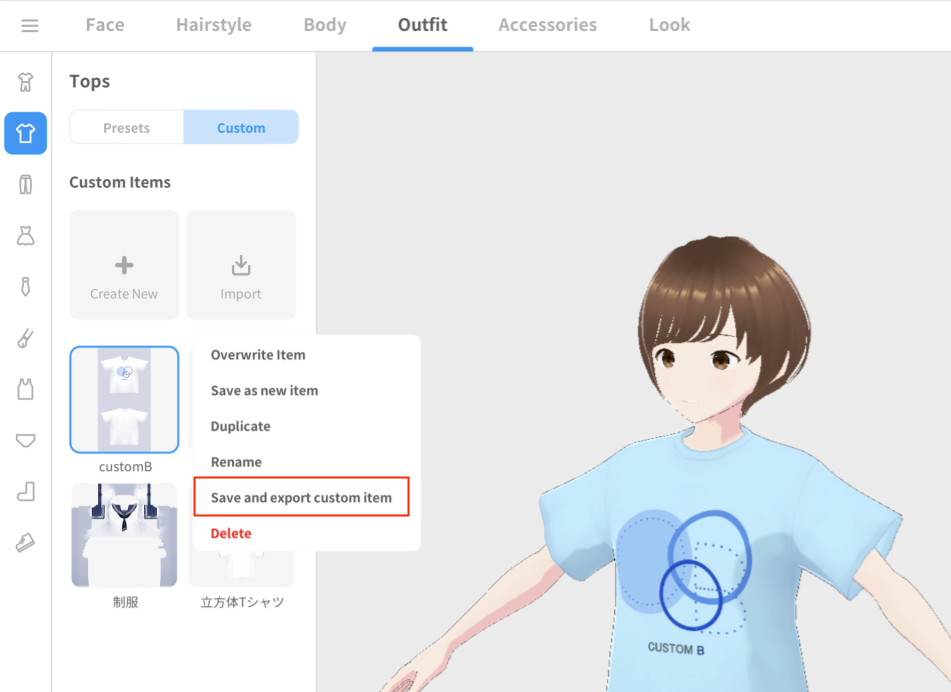 When you successfully export an item, a *.vroidcustomitem file will be saved in the specified location.
Custom items information
The custom items you import or export contain several types of information. See the table below for a detailed description of this information.
Parameter settings

The numerical information corresponding to each parameter.

Texture Editor data

Information related to the Texture Editor, such as layer information.

It also determines whether each layer is visible or hidden, according to the Texture Editor settings.

Material settings

Information about materials, such as Shade Colors.

Hair Editor data

Information about hairstyle.

Freehand groups and hair settings will be maintained.

Hair Bounce settings

Information about Hair Bounce, including Bone settings.

Item category

This information indicates the category to which the custom item belongs: Eyes, Eyebrows, Front Hair, Ahoge, Tops, Shoes, etc.

This information is used to import the item into the same category as when it was exported.

Item name

Information about the custom item's displayed name.

Custom item version

Information about the custom item's compatibility.
* The information stored in a custom item depends on the item's category. Information that doesn't include parameter settings is not stored. For example, Eyelids, Base Hair in Hairstyle, and Loafers in Shoes don't include parameter settings, so their parameters aren't included in their custom item information either.