VRM is a data format supported by VRoid Studio and VRoid Hub.
VRM files embed license information on the handling of an avatar's personality in the file.
・VRM
VRoid Hub has adopted a more user-friendly notation for the conditions of use that can be set in the license data of a VRM file.
▼ Character page on VRoid Hub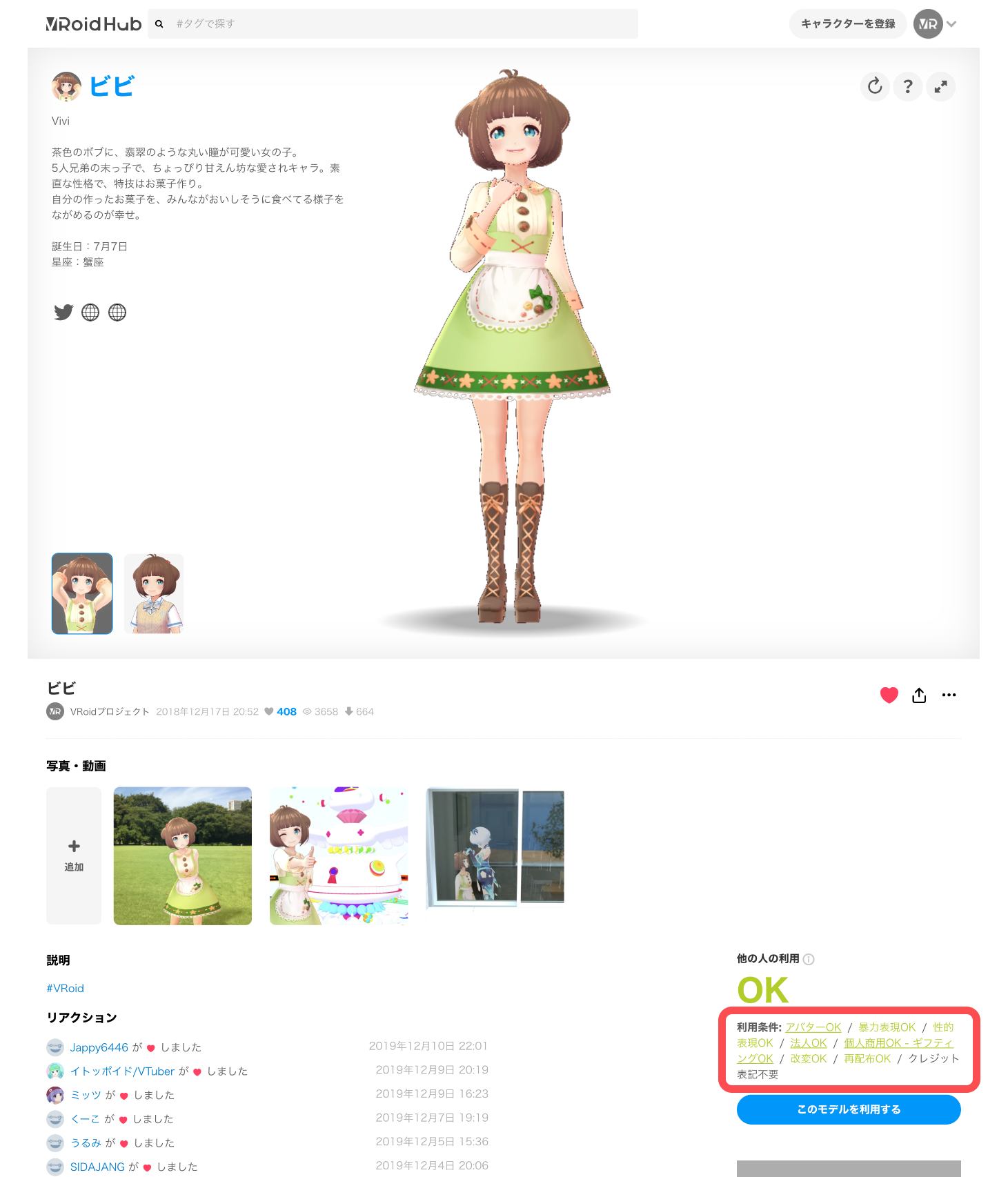 Transferring and changing VRM license content
A VRM file uploaded to VRoid Hub retains the original license data. However, when the "Allow third-party usage" option is enabled, the content is changed and overwritten based on VRoid Hub's conditions of use (*1). The "Other License URL" is also changed and overwritten by VRoid Hub's license URL (*2).
Note that the "Title", "Author", "Contact information", "Reference", and "Version" parameters inherit the original data and will not be changed.
Please refer to the License Correspondence Table for information on how the VRM license data corresponds to each of VRoid Hub's conditions of use.


▼ License Correspondence Table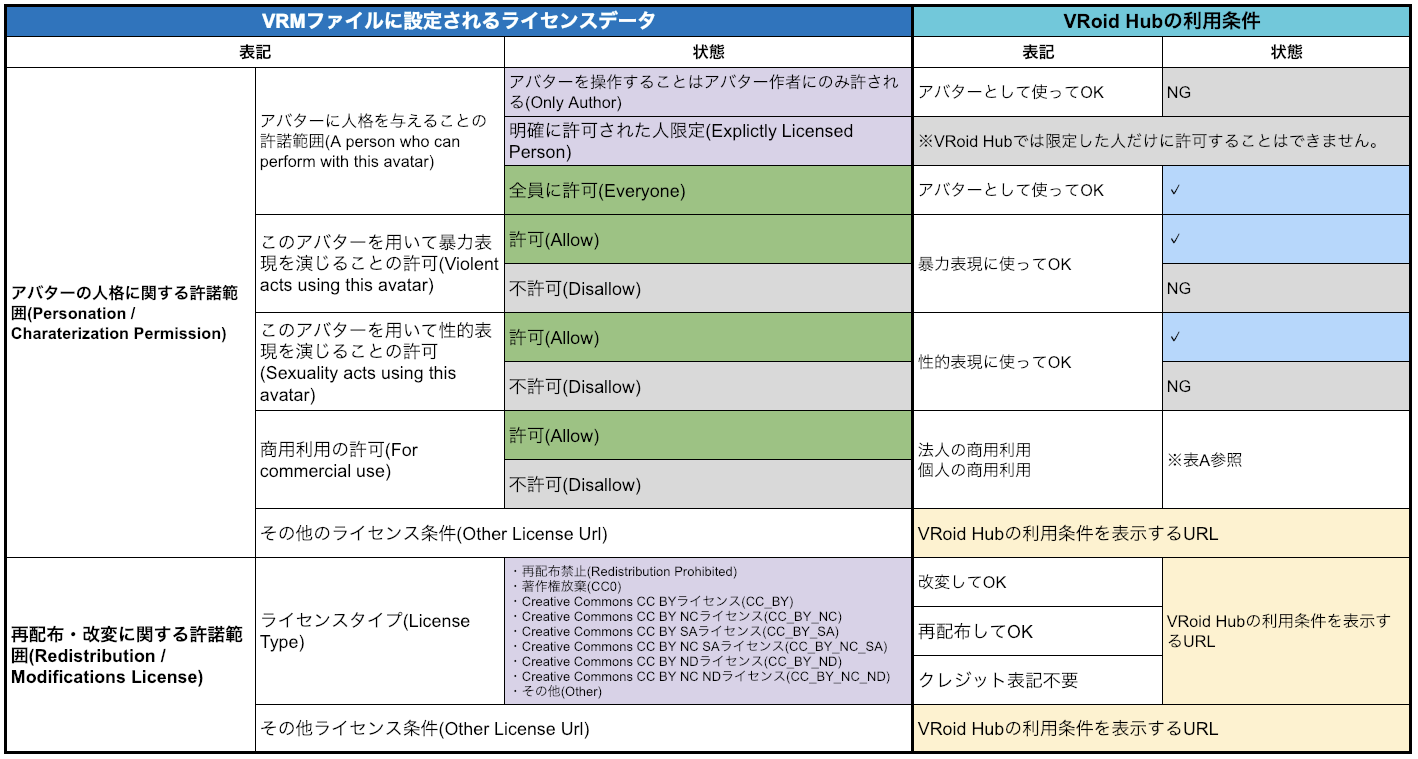 If you change the conditions of use in the character's edit page, the license data in the VRM file will be updated according to the conditions of use. These terms of use are clearly stated in the VRoid Hub Terms of Use and Guidelines, which you must agree to before using VRoid Hub.
The license that reflects VRoid Hub's conditions of use is also displayed when the model data is loaded in another service.
(*1) Please set the conditions of use on VRoid Hub when uploading the model data directly from VRoid Studio.
(*2) For information on "Other License URL", please see the section "About Other License URL" below.
For more detailed use cases
In order to make the service easy to use and understand for users, the VRoid Hub is designed to handle more detailed cases as follows.
Individual and corporate commercial use
If the "For commercial use" section is used without any changes, the scope of the character's use may be greatly reduced.
For example, let's say you disable commercial use in the VRM license. In this case, commercial use will be disabled for both corporate and individual users, so you will not be able to allow individual commercial use even if you wanted. Individual VTubers and doujin writers who wish to use their characters for non-profit activities will not be able to use characters that prohibit commercial use.
In order to make it easier to use a character, allowing commercial use alone is not enough information to include all types of users that may want to use a character. For this reason, it is possible to set the commercial use category separately for corporations and individuals, so that the character can be used in a wider range of situations.
▼ VRoid Hub's conditions of use setting page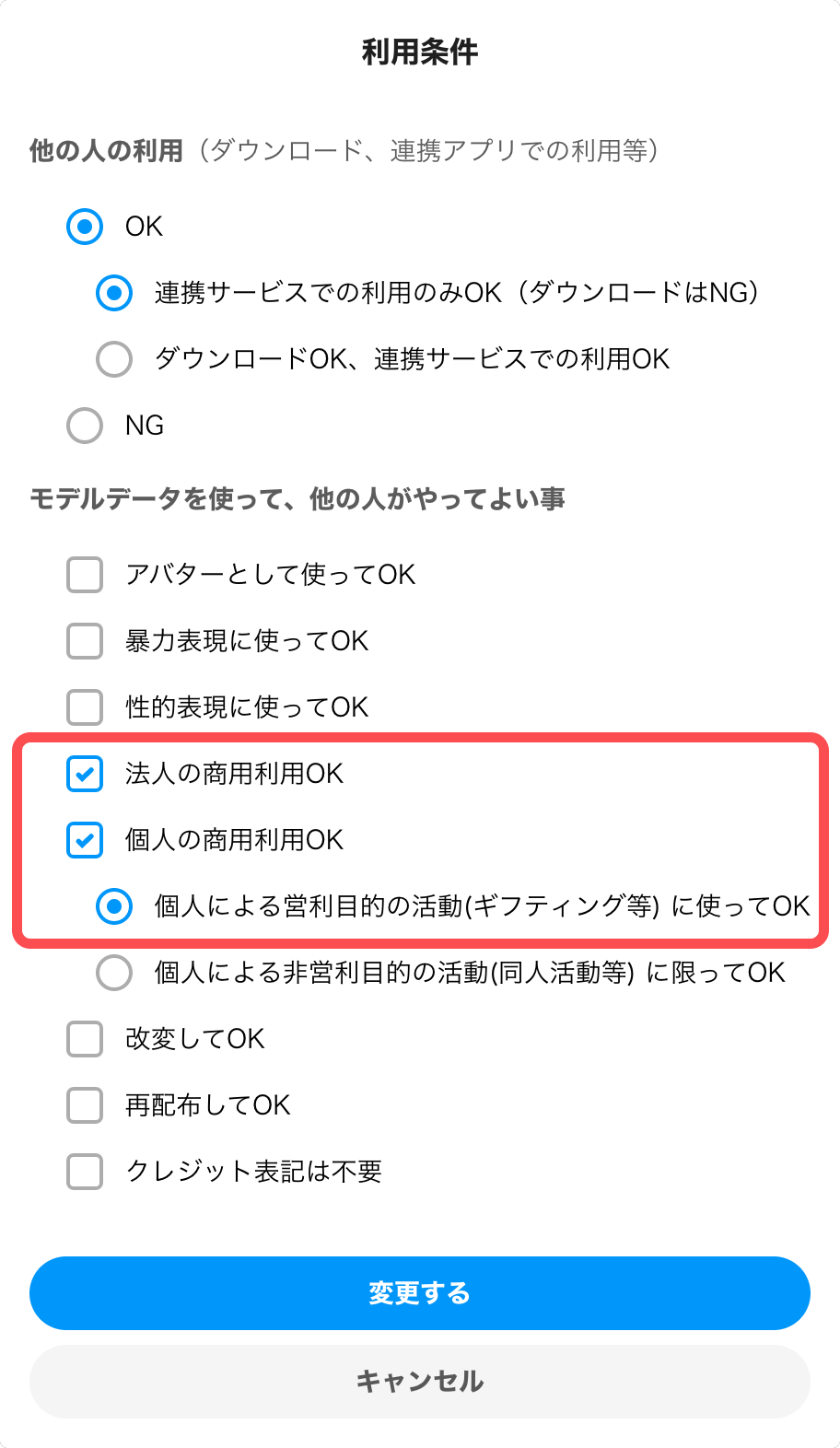 In addition, it is also possible to allow commercial use by individuals, as long as it is for "non-profit purposes" (*3), such as doujin activities.
However, in order to establish a unified standard, the VRM file is saved as "For commercial use" only when commercial use for both corporations and individuals (for-profit) is allowed on VRoid Hub.

▼ Commercial Use Correspondence Table (A)

(*3) Related article: About commercial use on VRoid Hub

Creative Commons was changed to a clearer notation
Creative Commons terms such as "CC and BY" have been changed to "Alteration", "Redistribution", and "Copyright notation" to make them easier to understand at a glance.


▼ VRoid Hub's conditions of use setting page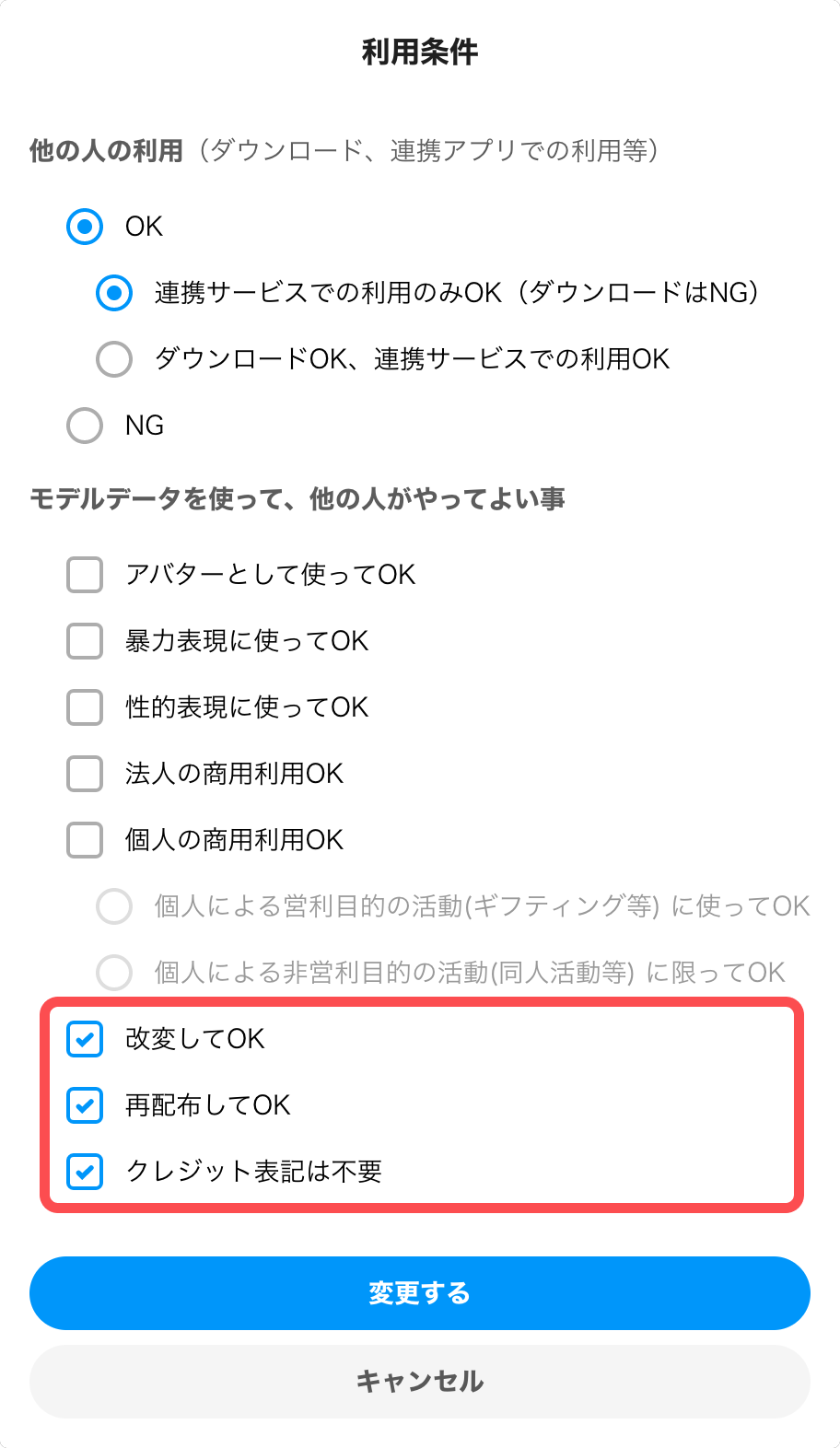 About Copyright Waiver (CC0)
Copyright Waiver (CC0) states "I do not own any rights" or "I relinquish all rights, including copyright to the work". You cannot currently set CC0 in VRoid Hub. This is to avoid conflicts with the VRM file license and to avoid the possibility that the file is downloaded and used in ways not intended by the author after CC0 is set up by mistake. We will consider adding the possibility set CC0 in the future.
About Other License URL
The "Other License URL" features VRoid Hub's conditions of use for more information about commercial use and to make up for the changes made from Creative Commons.