Welcome to VRoid Studio!
Thank you for choosing our software.
VRoid Studio is an app to create humanoid 3D avatars (characters), available on Windows, macOS, and iPad.
You don't need to have any background in 3D modeling or design, as this software was developed for beginners with no experience in this area.
You can use all characters you create for nearly anything, for both profit and non-profit purposes.
If you're looking for software to help you create an avatar for VTubing and participating in VR communities, this might be the app for you!
In this article, we'll be explaining what you can do on VRoid Studio and with the models you create.
For further details on each feature, please check the FAQ.
Now let's get started with VRoid Studio and see what sort of presets we can choose from when creating our character!
Creating a Character on VRoid Studio
VRoid Studio is a program that gives you many preset items to choose from, that you can pick and mix to create your own character.
Furthermore, you can change shape, color, and design for every item.
When creating a model, you will need to think of mainly these parts: Face, Hairstyle, Body, Outfit, and Accessories.
Let's take a look at the icons lined up on the left of the scene in the Face editor.
Click (or tap, on the iPad) on the top icon, and you'll see a list of preset faces.
Take a look closely and pick the one you like the most.
The face of the character shown at the center of the screen just changed to the one you selected.
Do you like what you see?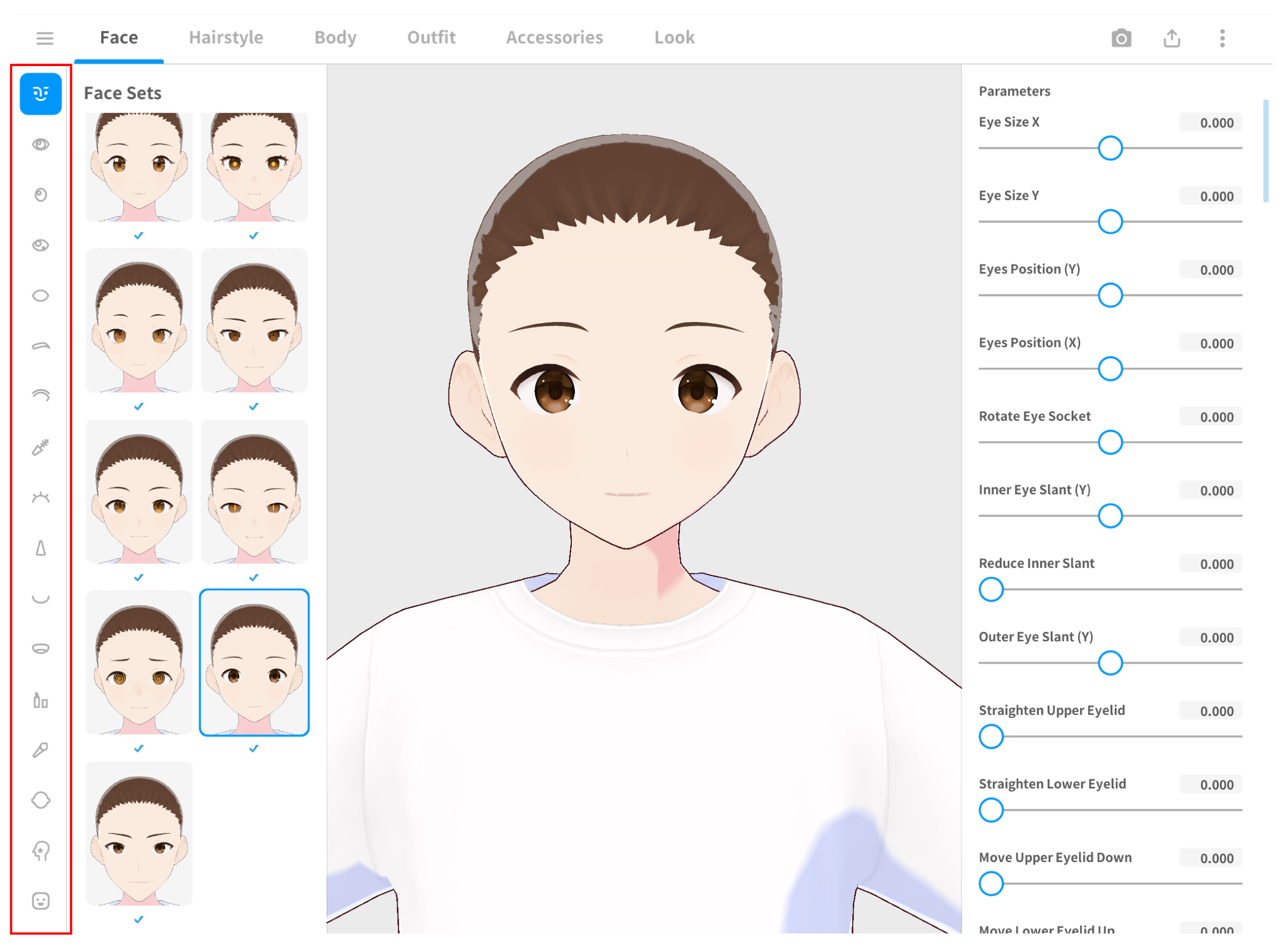 From here, you can change every single part, such as the eyebrows, nose, mouth, etc.
Try looking at the content of every icon on the list and give your character the look you want to go for.
For each part you select, you can change the appearance by adjusting the sliders on the right hand of the screen.
Next, let's take a look at the hairstyles.
Click on the Hairstyle tab. Clicking (or tapping, on the iPad) on the top icon on the left will give you a list of preset hairstyles, much it was for the face editor.
Hair is divided into more sections, from the more ordinary front and back, to extensions, ahoge, and more.
Take a look at the presets and see what fits your model best.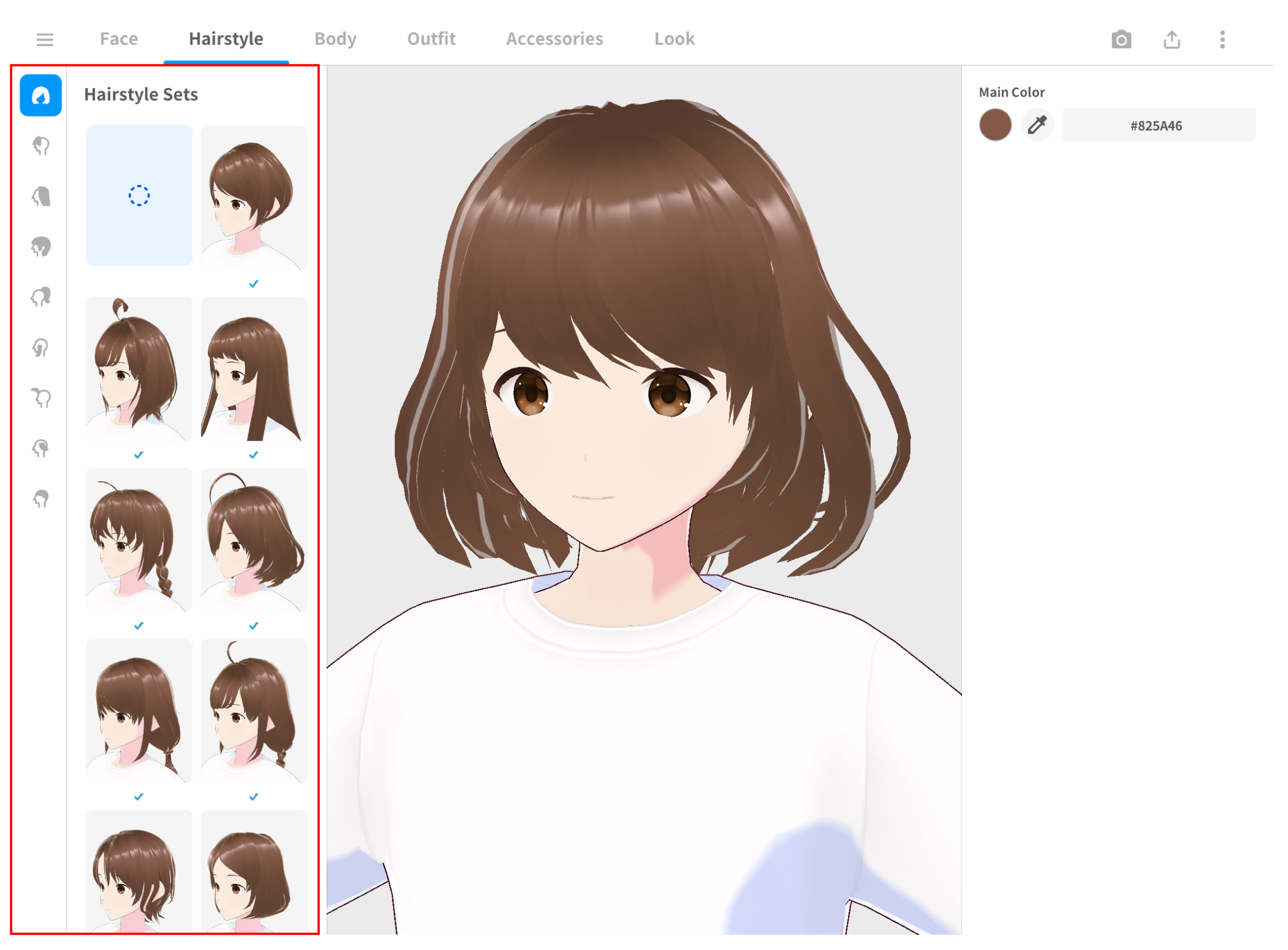 When you're done with the hairstyle, it's time to move on to the Body editor.
Click on the Body tab to open the editor for the body of the model, which is anything below the neck. Can you see all the sliders on the right? You can use them to edit the character's height, shoulder breadth, and much more.
Try them out and find the right balance.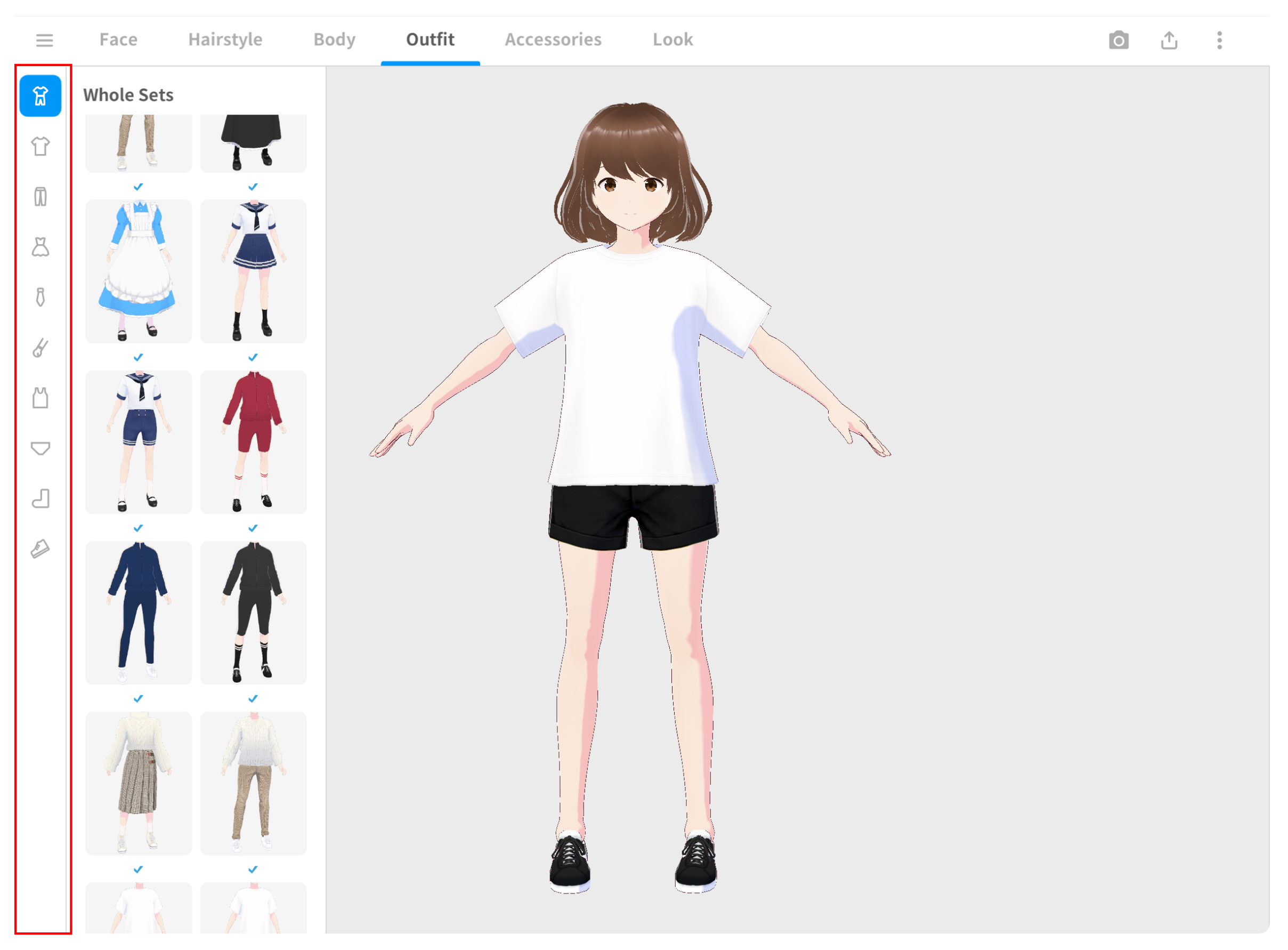 Let's try changing outfits now.
Click on the Outfit tab to see the categories for pieces of clothing, such as Tops, Bottoms, Dresses, Shoes, etc.
Like the editors before, the icon on the top will give you a few options of outfits combining more of the categories below.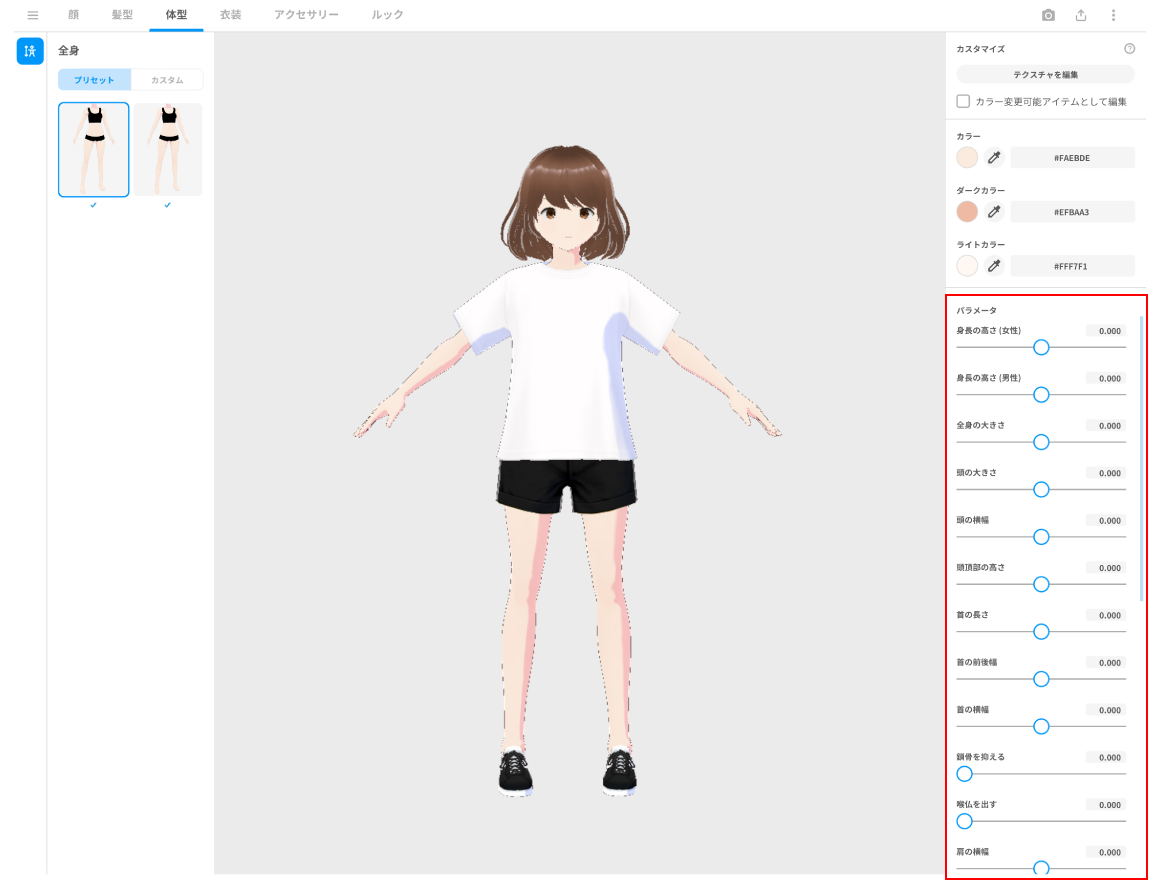 Even after you've selected an outfit for the whole body, you can still change individual pieces such as pants, socks, and shoes to complete your look.
Have fun with all the possibilities and give your character the ultimate outfit!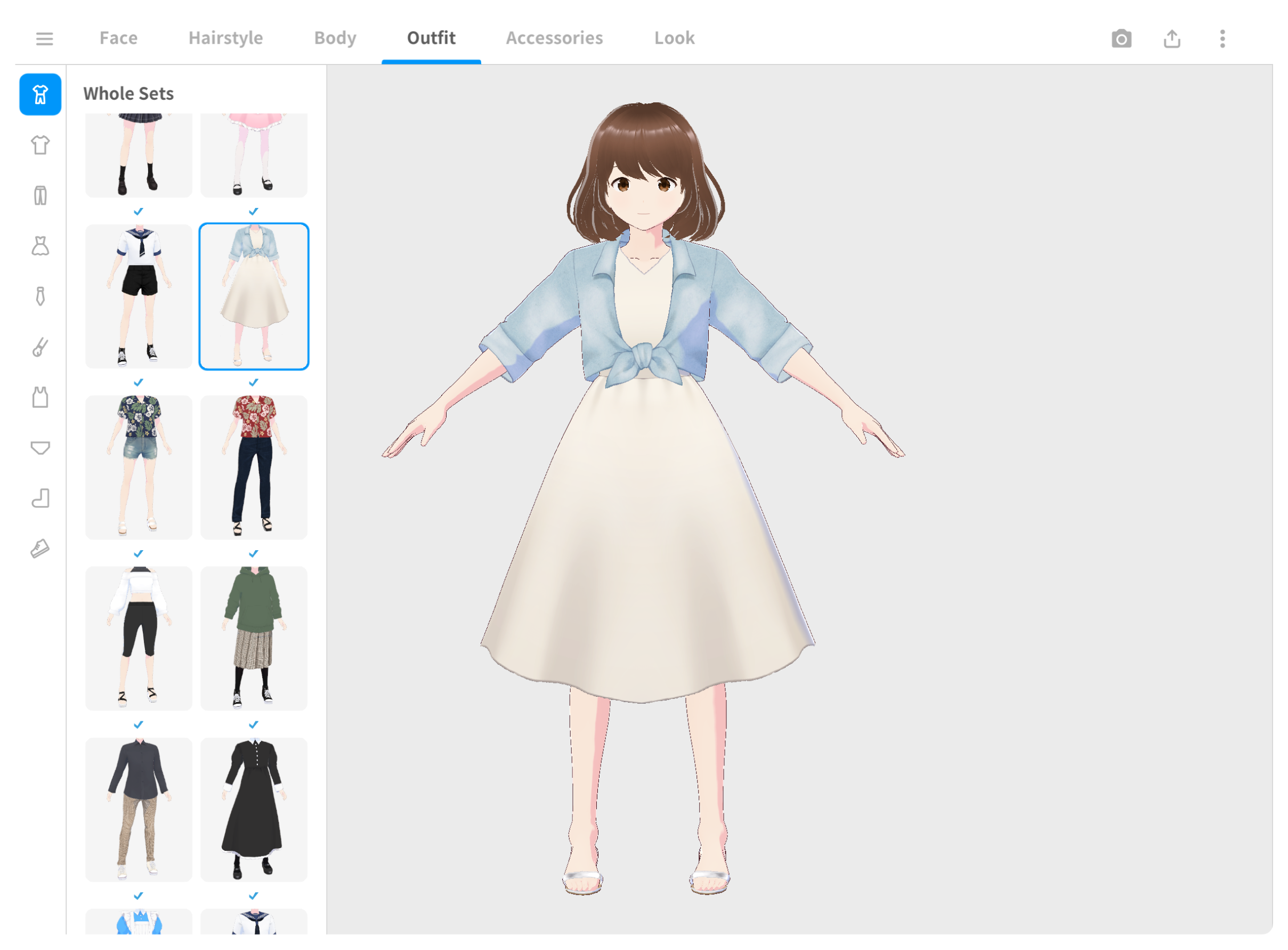 Lastly, it's time to have fun with some accessories.
Click on the Accessories tab to pick out some accessories that will definitely give your model a unique look, like glasses, or even furry ears!
Your model surely looks good by now, but why not try taking it to the next level with some extravagant accessories?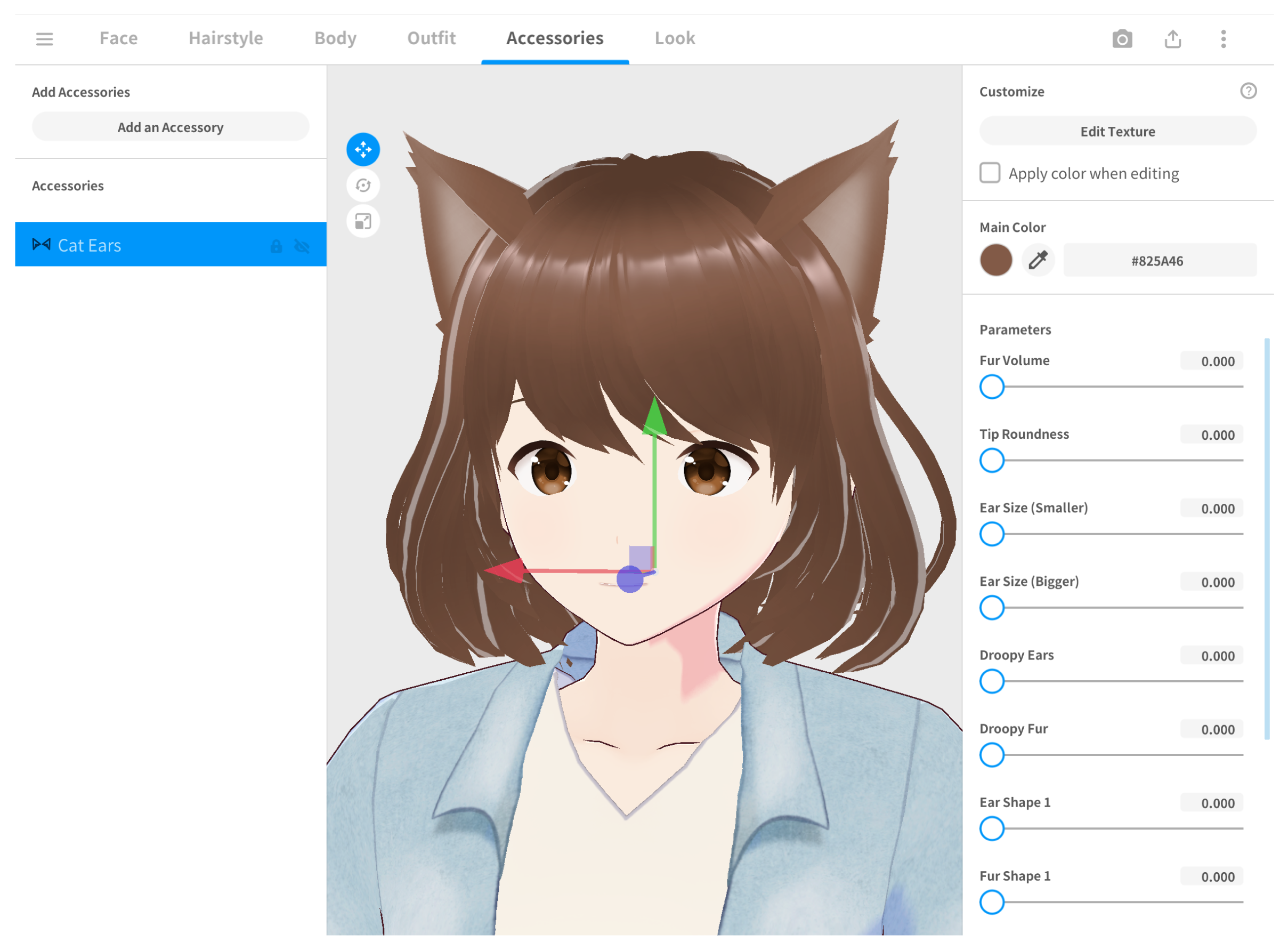 This was all for what concerns the basics of creating a model.
Once you get used to VRoid Studio, try editing the appearance (texture) for each feature and step up your game!
Uploading your Characters to VRoid Hub
Alright, your original character should be completed by now, right?
You can use this character on many AR/VR platforms and services supporting 3D avatars.
First of all, you should upload your model to VRoid Hub, to make it easier to access from integrated services, and for other people in the community to be able to see and appreciate it.
VRoid Hub is a community for you to store, share, and even distribute your 3D models.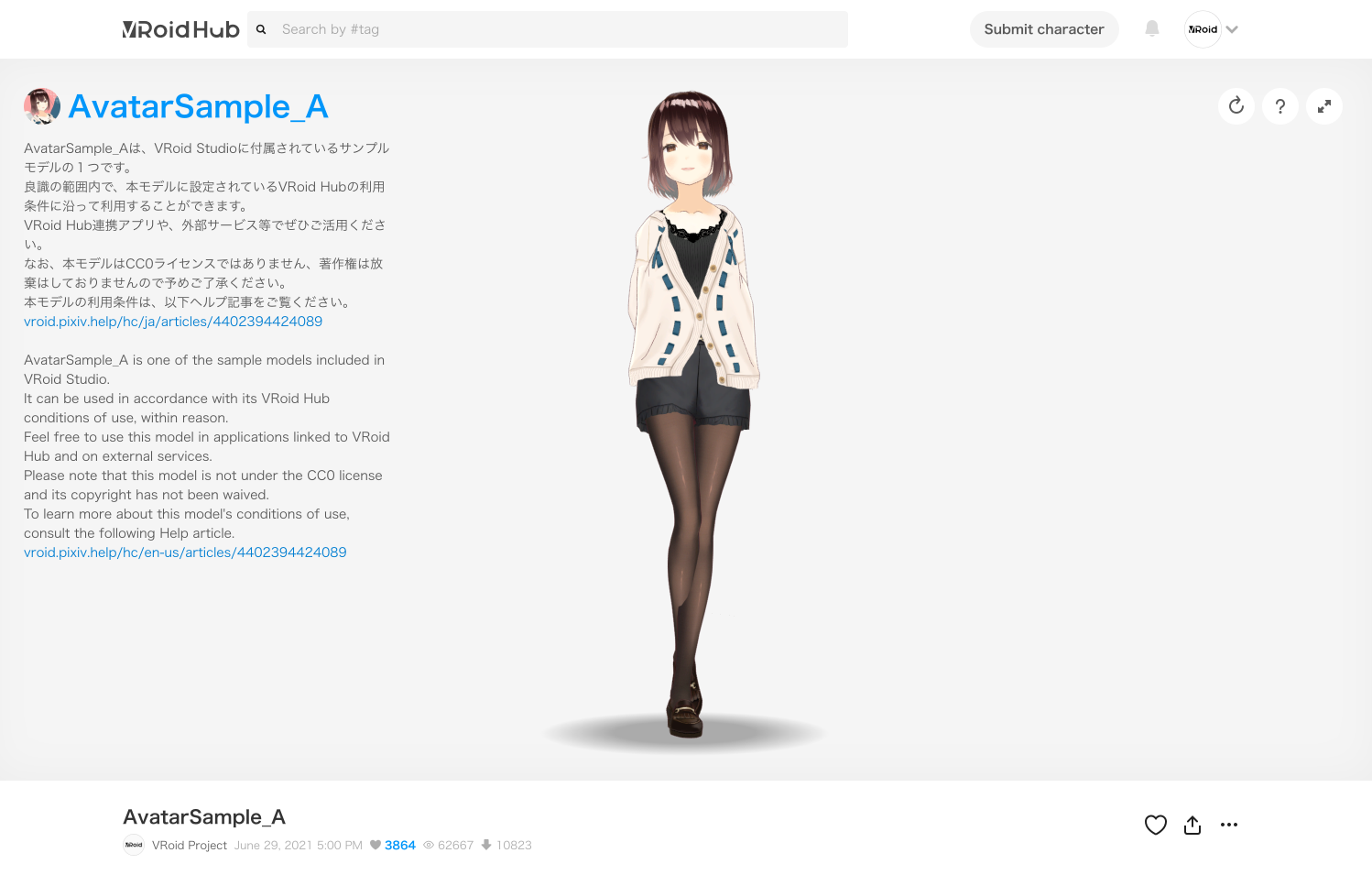 VRoid Hub is all about the characters its community uploads, as people can send you hearts in appreciation, comment on your models, and engage from there.
Models on VRoid Hub are available to use on each game and app supporting the VRoid SDK.
To upload a character onto VRoid Hub, just click on "Upload onto VRoid Hub" from the menu in VRoid Studio, or export it as a VRM file and upload it from there.
Snapping AR Pics on VRoid Mobile
After you've uploaded your model onto VRoid Hub, let's start taking a look at what you can do with it!
VRoid Mobile is a smartphone app that lets you create 3D characters, dress them up, and take pictures with them.
You can create characters directly from the app, but also call up those you uploaded to VRoid Hub and take pictures in 3D worlds, both alone or with friends too.
Furthermore, if your smartphone supports AR, you can use the camera to place your model wherever in your room or outside, and take pictures together!
Now go and call up your character to take a picture together on this special occasion!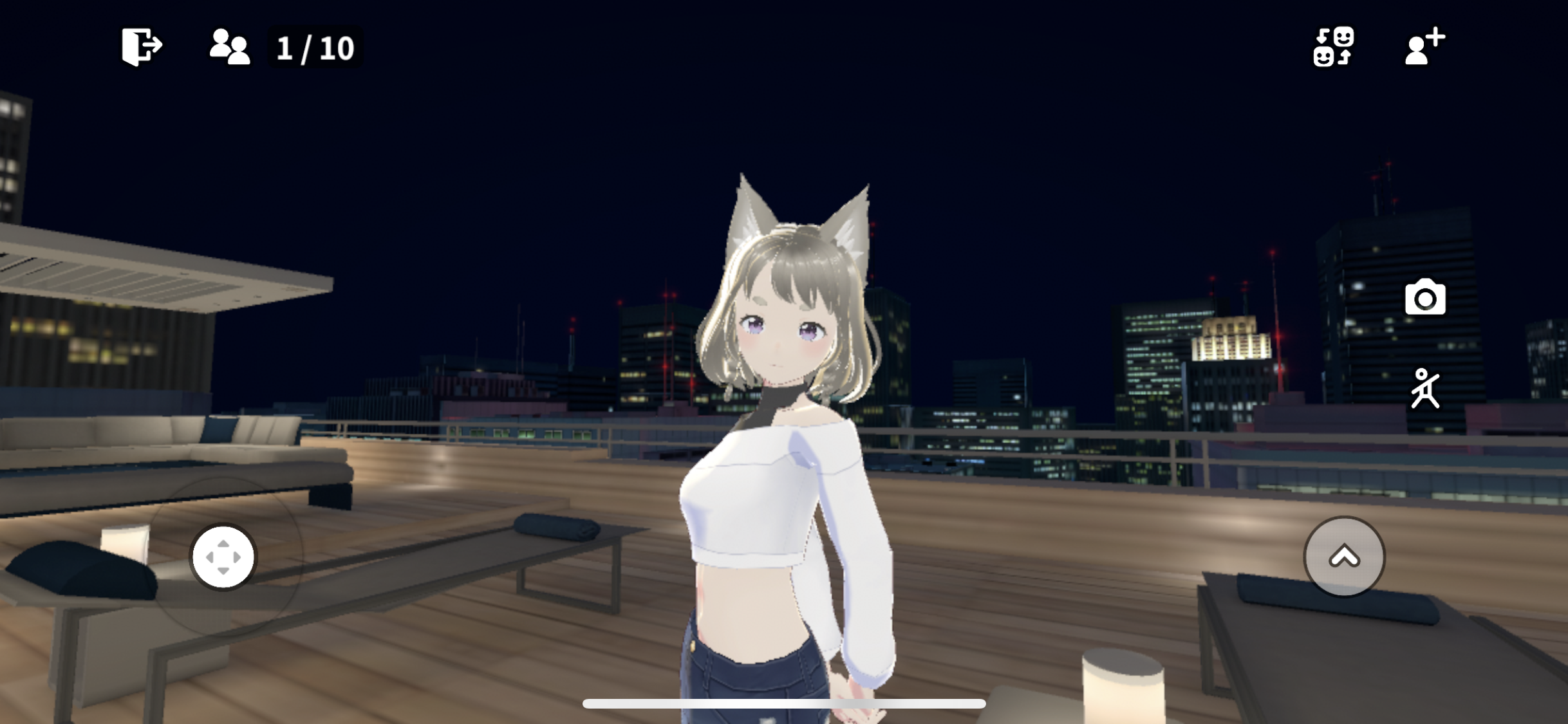 I want to photograph multiple characters
I want to call up a character registered on VRoid Hub
Did you enjoy this little walkthrough?
You can use the characters you created on many other platforms too!
This is just the beginning — there's a whole world of opportunities waiting for you!