The Posing feature is a feature you can use in the Photo Booth.
You can freely set poses for your model for photoshoots. You can also save or upload poses.
This article explains how to use the Posing feature.

If you would like to learn more about the Photo Booth, please check the article below.

▼I want to know more about the parameters in Photo Booth
https://vroid.pixiv.help/hc/en-us/articles/900006969003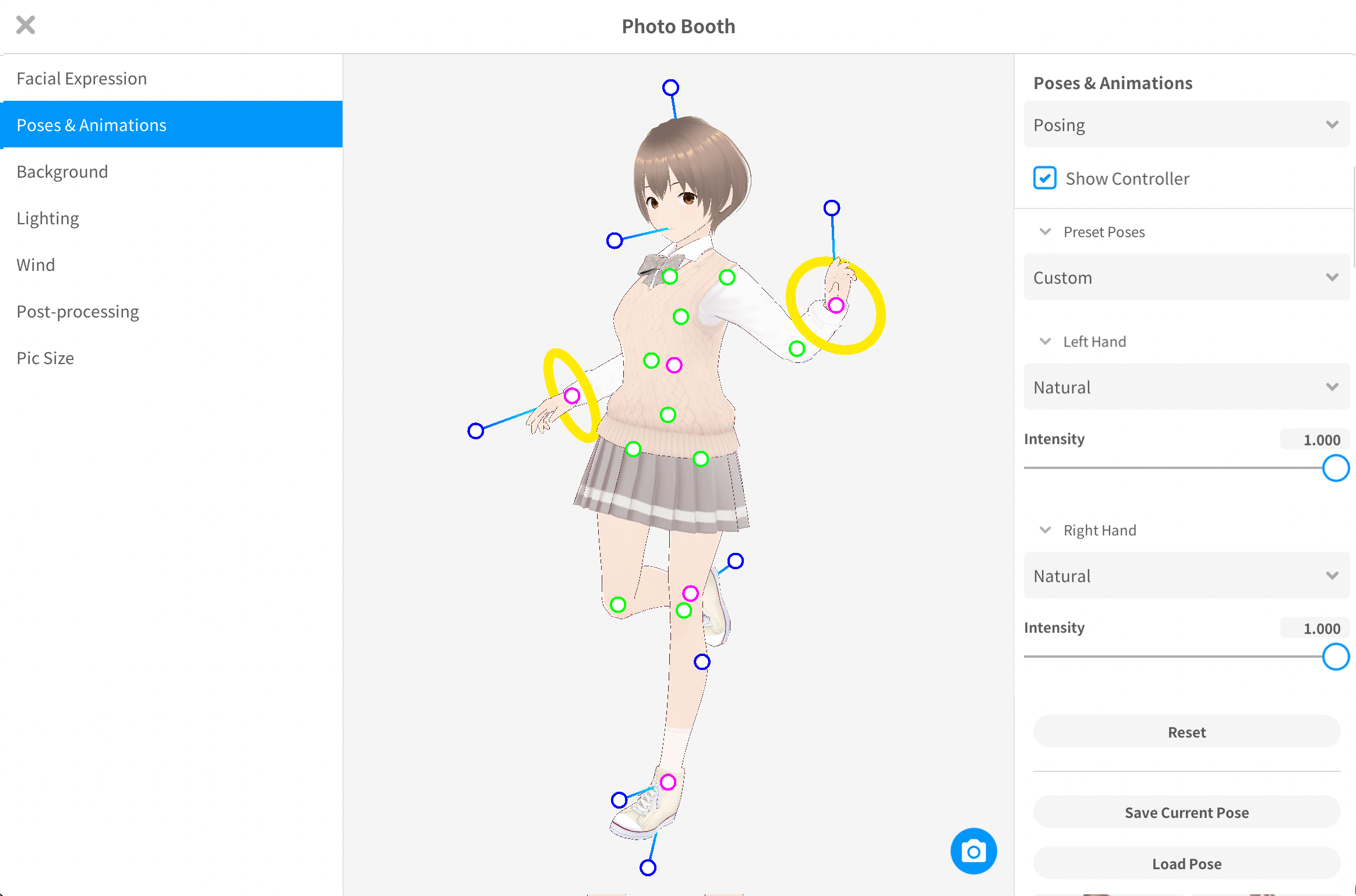 How to Open the Posing Feature
Select the camera icon at the top right of the page to display the Photoshoot page.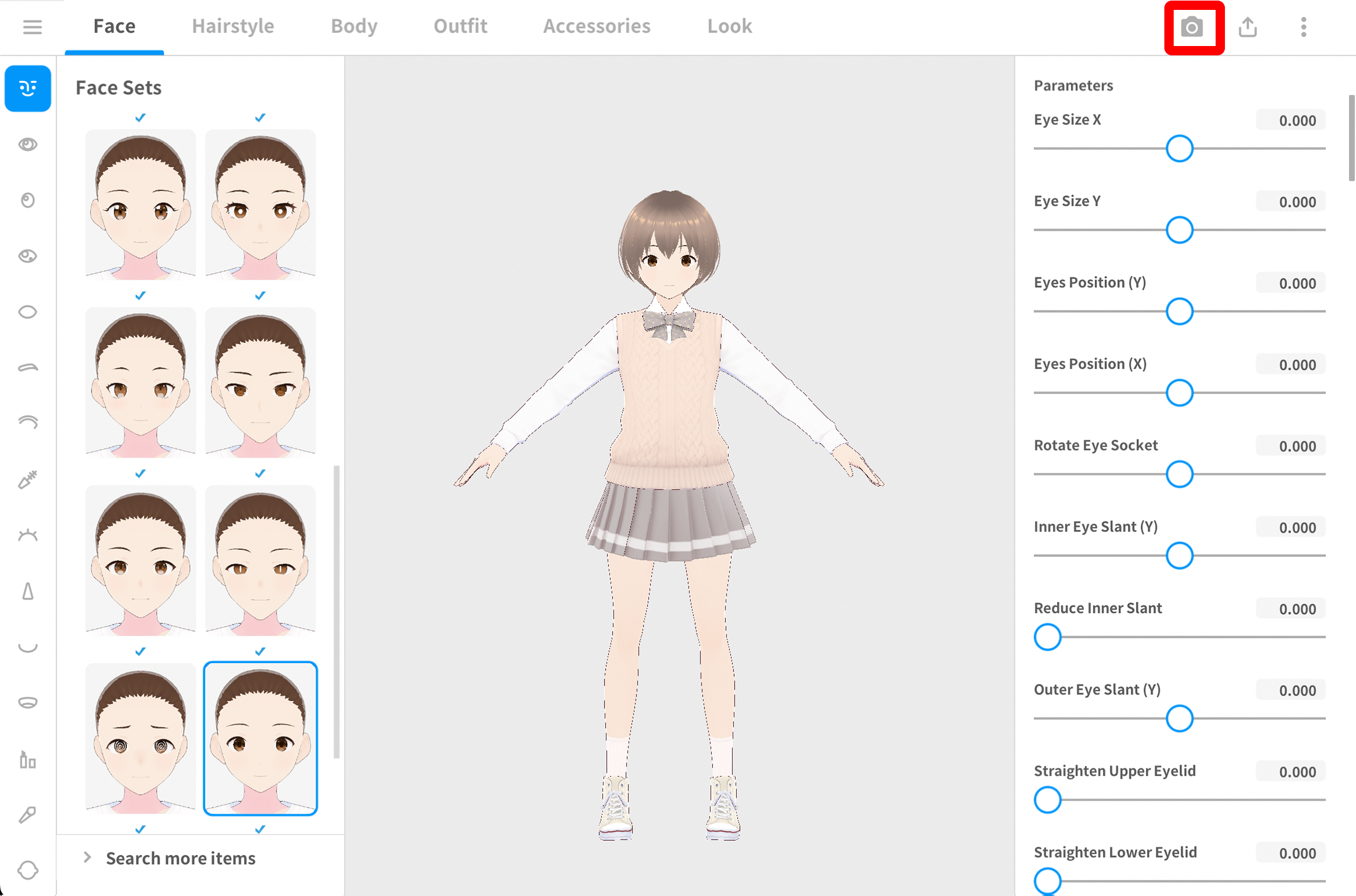 In the Photo Booth, go to Poses & Animations > Posing.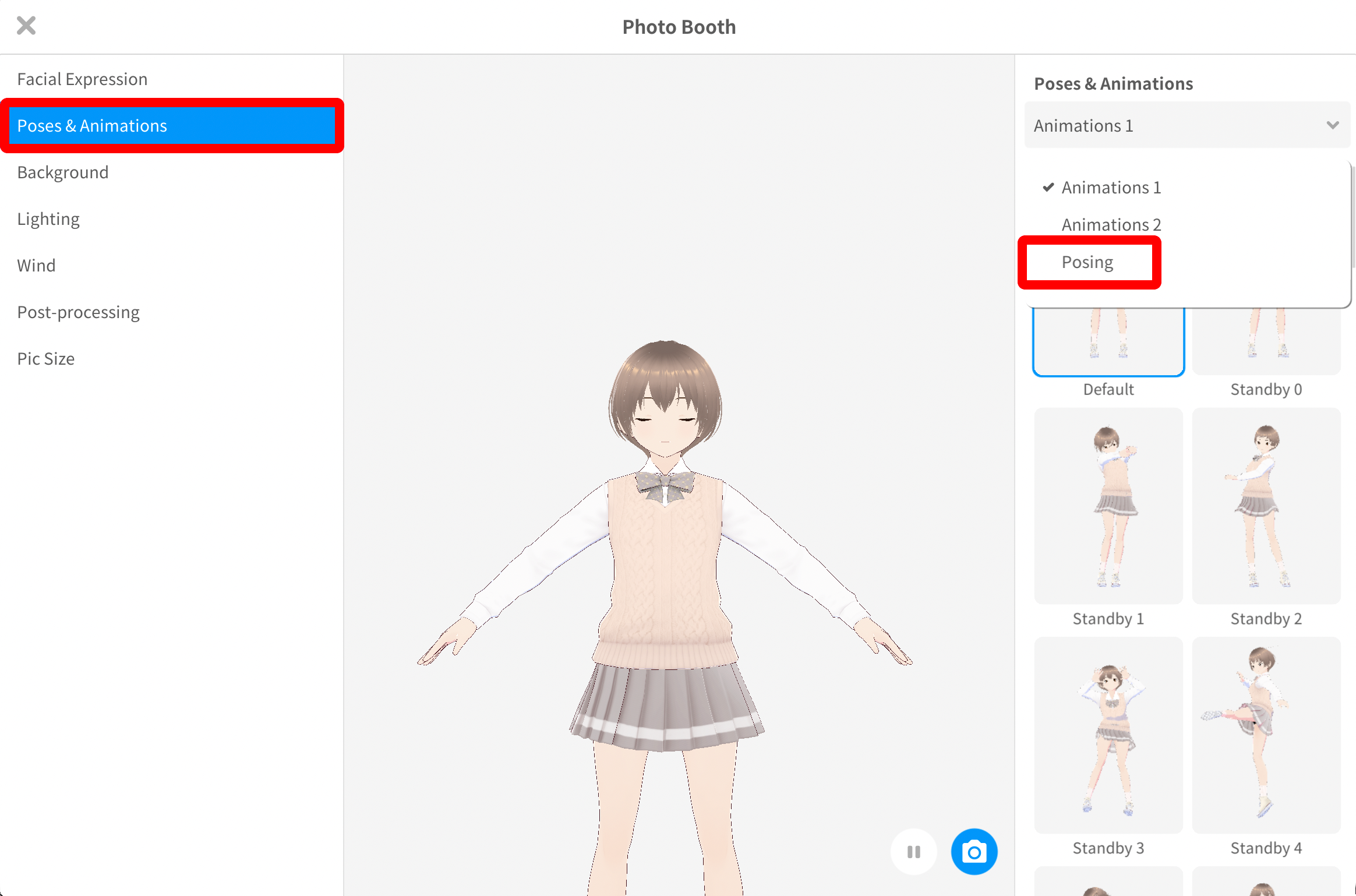 This will open the pose editor.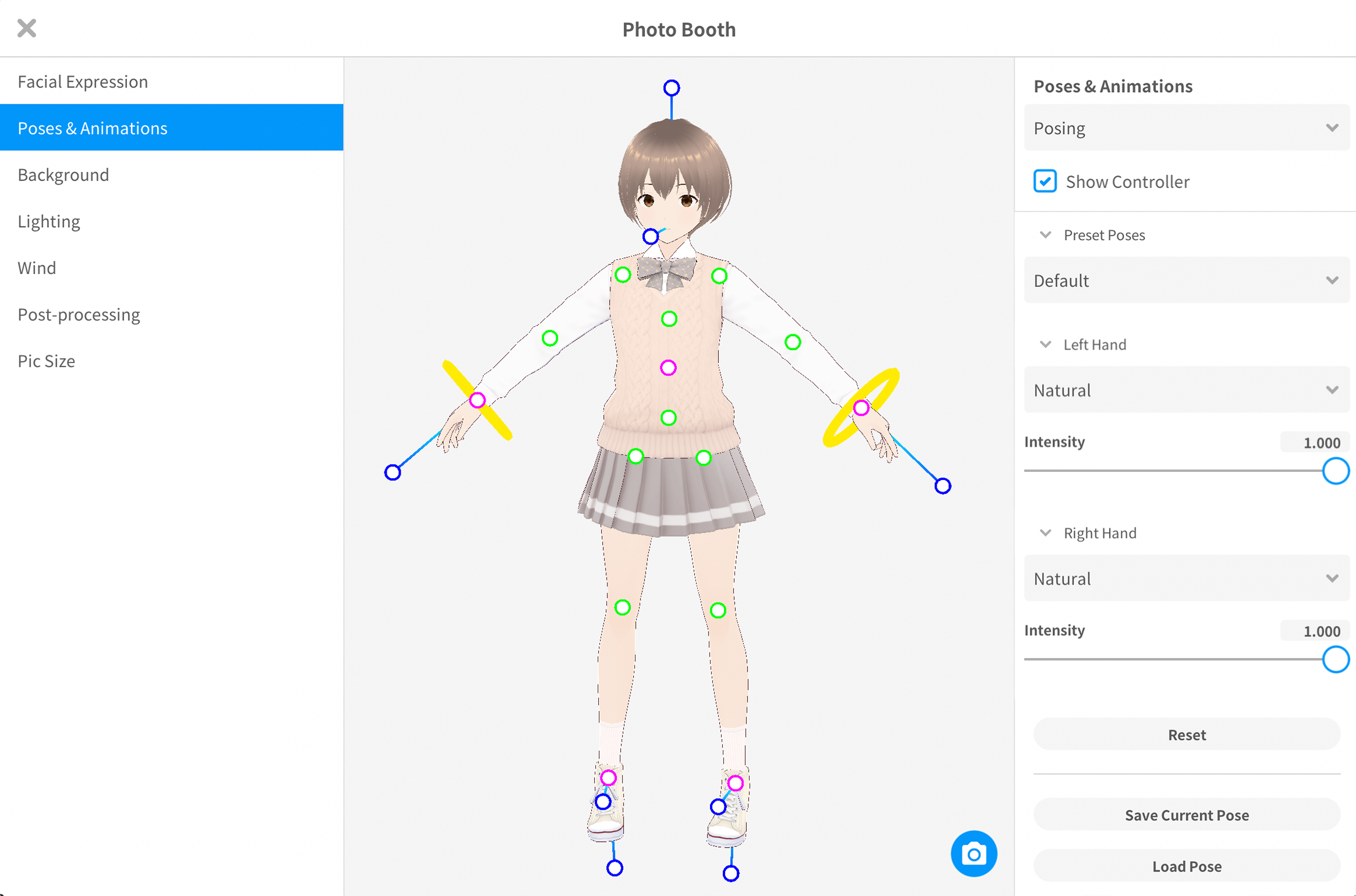 Controllers
On this editor, the pink, blue, and green dots and the yellow rings displayed over the model are called the "controllers".
You can edit the model's pose by manipulating the controllers.
Each controller function is explained below.
Pink
Hands: you can click and drag to move the model's arms.
Feet: you can click and drag to move the model's legs.
Torso: you can click and drag to move the model's whole body.

The model will adjust automatically so that the angles of both knees look natural. This feature is useful for creating seated poses or full-body action poses.
Green
You can click and drag to manipulate the model's joints.
Blue
You can click and drag to rotate the parts of the model at the roots of the blue lines (head, hands, feet, etc.).
Yellow Rings
You can trace around the yellow ring to twist and turn the model's wrists.
Below is a sample workflow showing how to create poses using the controller.
First, create the general pose using the pink controller to manipulate multiple joints at once.
Next, use the green controller to adjust the elbow and knee joints.
Finally, use the blue and yellow controllers to adjust the angles of the hands and feet.
Preset Poses
You can also use preset poses such as "Arms Crossed", "Jumping", "Seated" and more.

When you select a pose from the list of preset poses, your model will take that pose.
You can then use the controller to customize the model's pose however you like.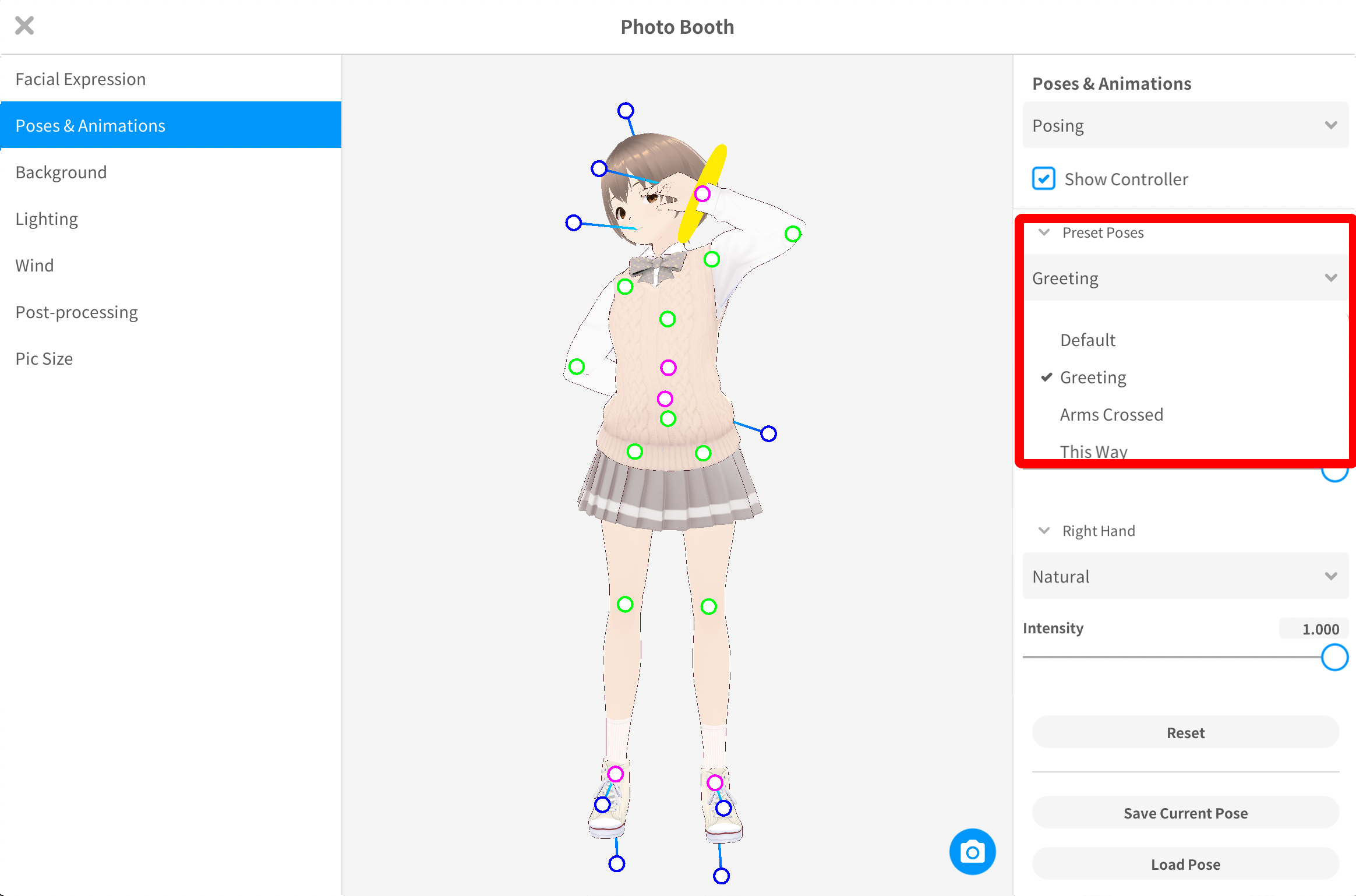 Before saving customized poses, please check the Help section below.

▼How to Save and Load Poses
https://vroid.pixiv.help/hc/en-us/articles/13040108436761
Left Hand / Right Hand
Here you can set individual poses for each hand.
You can choose from a variety of hand poses, such as "Fist", "Open Palm", "Peace Sign", etc.

You can choose different poses for the left and right hands, and use the "Intensity" slider to adjust the tightness of the pose.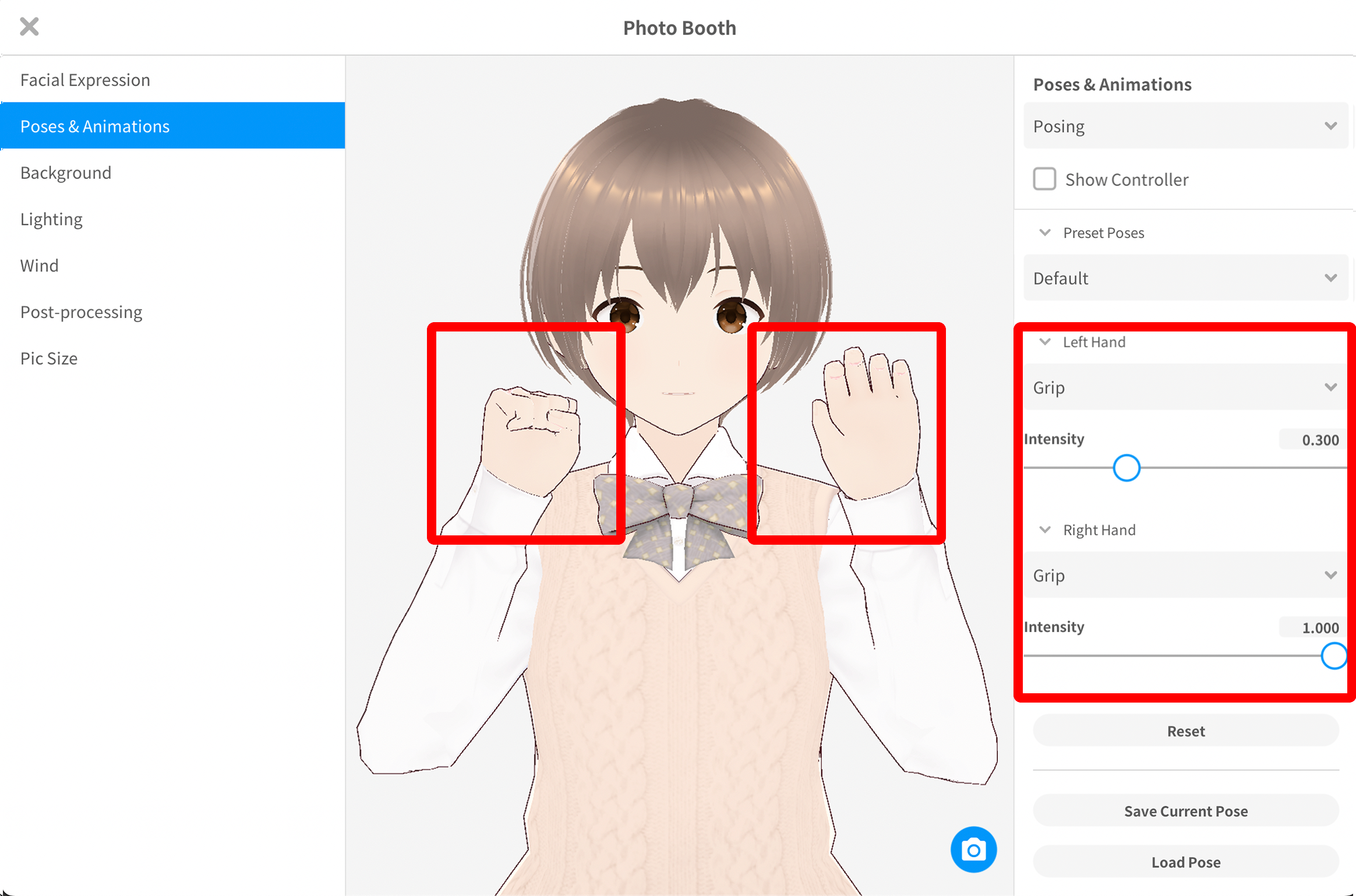 Resetting the Pose
This feature allows you to restore the model's pose to the most recent preset pose you selected for the model.
If you have used the "load pose" feature to upload a customized pose, the Reset button will allow you to reset the model to the pose you originally uploaded.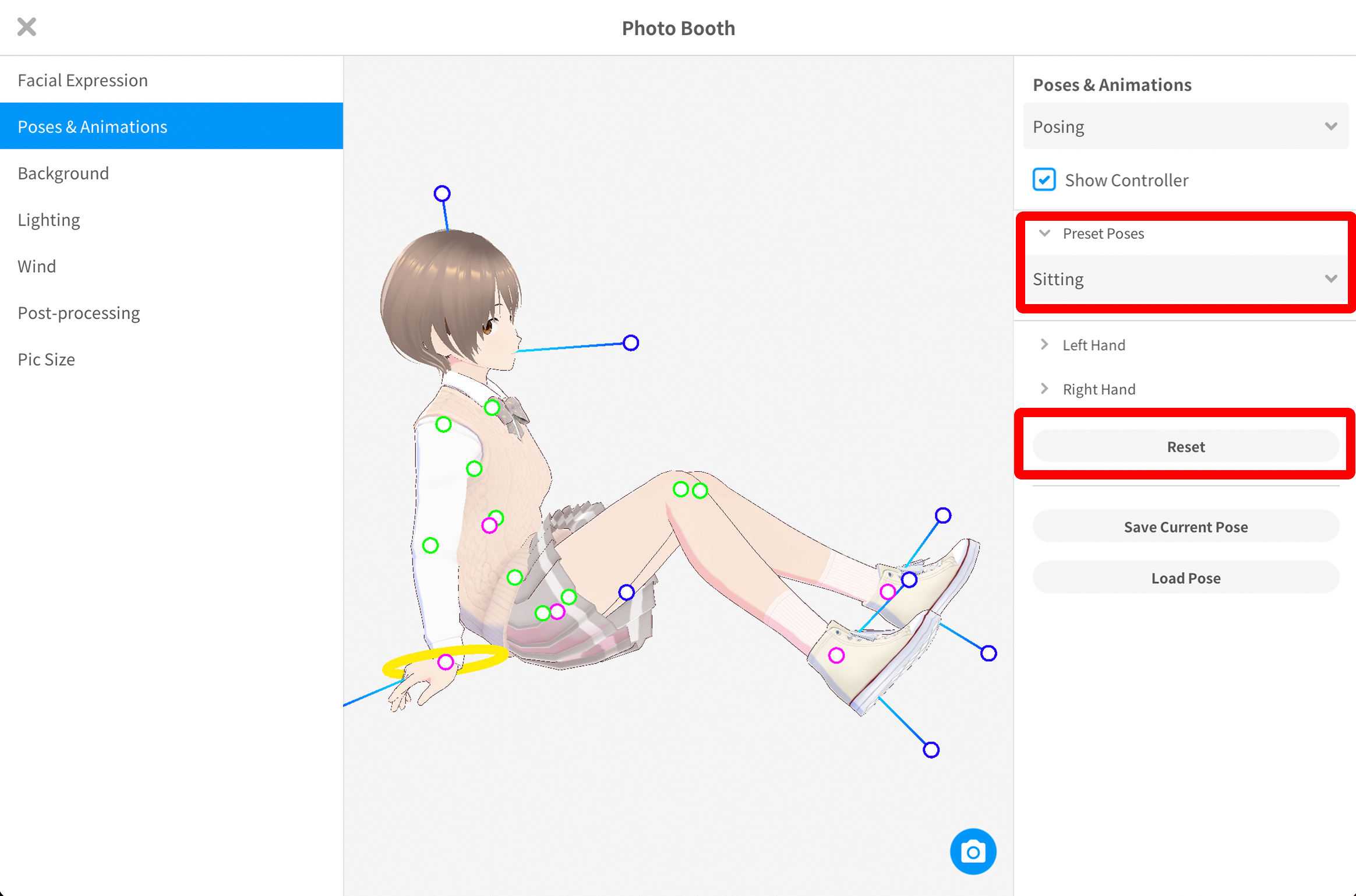 Saving and Loading Poses
This feature allows you to save poses you create in VRoid Studio, then upload and use them whenever you like.
Check the Help article below to learn more.

▼How to Save and Load Poses
https://vroid.pixiv.help/hc/en-us/articles/13040108436761