Open the Design tab of the Hair Editor to find the Material function in the upper right corner of the screen.
"Material" is a function that lets you save the color scheme of Basic Color, Shade Color and Highlight as a set. It's a useful function when you want to create hair of a different color, or when you want to add unique hair to different parts of the model.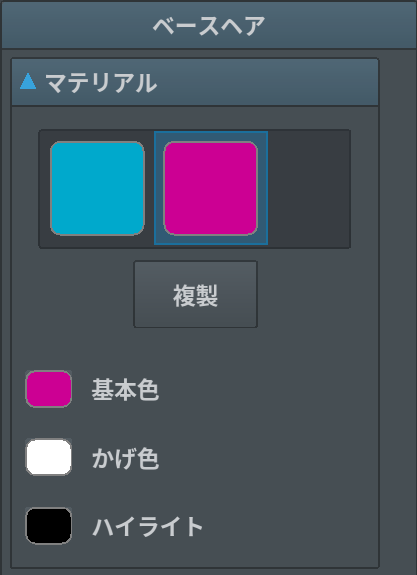 The initial screen will feature only one material.
If you want to set a different material for your hair, click on the Duplicate button and adjust the Basic Color, Shade Color and Highlight to your liking.
If you select a portion of hair whose color you want to change with the selection tool, you can assign it a different material. Also, when selecting a portion of hair, the material assigned to that portion will be highlighted on the function tab Materials can be set at once for all groups, or can be assigned separately for each element.
You can also adjust the texture of a material. After selecting the material you want to adjust, please adjust the Texture Parameters or Hair Parameters.
Please note that the current version of VRoid Hub supports duplicating materials to create new ones, but new materials cannot be deleted.